Megan Shea is loving life at the moment, and it's not hard to understand why.
With the training regimen under which the Young Ferns squad is currently operating, it's basically a case of `Football is your life'.
"And I love it!", exclaims one of the younger members of the squad, who turns sixteen on July 9. "I just love the game! The training that we have is rather intense! We get into what we call `the red zone' as much as possible.
"Everyday, you're thinking football, even at school, which, for me, is Marian College. I use the school gym four times a week, and you're thinking about hydration, what you eat …"
All these things were a far cry from Megan's thoughts when she started playing the game in 1997. "My brothers, Darren and Greg, played when they were younger, and Mum (Sue) took me along to our local club, Burwood, when I was four. I played midgets and have never looked back".
The Christchurch native spent eight seasons at Burwood before switching to what is now Woolston Technical in 2005. Within eighteen months, she was playing for the Mainland Player Development Academy squad in either a central defensive or left-back role, and is now under the watchful eye of Young Ferns assistant coach, Rowena Fulham, at the newly-formed Coastal Spirit club.
"My Dad, Peter, has been the biggest influence on my career so far", smiles Megan proudly. "He played soccer in his time" (and scored a few goals too, according to back issues of the NZ Soccer Annual) "and he knows his stuff. He's always been there to coach me and give me advice when needed.
"My family have been right there all the way through, too. My mum and grandparents come everywhere to support me. Another key contributor to my career has been former NZ Universities coach Macky Singh - around the ages of 10 - 13, he was a very crucial coach in my development".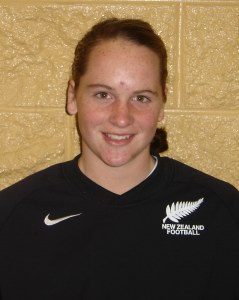 Megan Shea's Favourites
TV Show

Home & Away,

Desperate Housewives

Movie

Bend It Like Beckham,

The Ringer

Music

Chris Brown

Food

Chicken pasta bake

Football player

Thierry Henry

Football team

Arsenal

Other sports

Basketball, Cricket, Touch rugby, Water polo

Other sports stars

Erin Rooney

School subject

PE

Way to Relax

Fat pants, hoodie, couch!!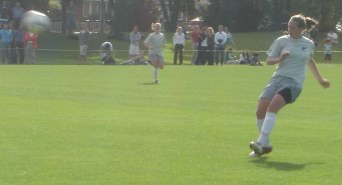 The ultimate reward for all who've played a pivotal role in Megan's progress came on 8 December last year, at Takapuna's Taharoto Park. "Without question, playing my first international for this team against the Korea Republic last year is my most memorable moment in football to date.
"I'm very proud to be a Kiwi!" she exclaims emphatically. "Wearing the fern on your chest is the best experience you can feel. You can look down and see it there, and see and feel the pride for our country, New Zealand".
In stark contrast to that feeling was that which the player nicknamed `Yeti' experienced around this time last year. "I picked up an ankle injury in April 2007 which took nine months to fully heal. Whenever I kicked the ball, the pain was unbearable, and remains my worst football experience to date.
"The most enjoyable part of football is the people around you, and when you've trained extra hard and played ninety minutes, coming away with a result", a situation no better emphasised than on the Young Ferns' recent Australian tour, which saw them twice defeat the Junior Matildas 4-0.
Megan played a part in all three matches on that tour, bringing to five the number of caps she has at U-17 level for her country. Naturally, she's hoping to add to that tally before the year is out.
"The biggest challenge I face this year is being based here in my home city. Living in Christchurch while everyone else is in Auckland training is particularly challenging. But that will be exceeded if I make the team. The World Cup itself will be the biggest challenge - definitely!"
Should she be faced with the ultimate challenge for all the Young Ferns this year, you can be certain Megan Shea will turn to the best advice she's received to date to help her meet it head on.
"Never say never - just do it!"
You can count on this proud young Kiwi doing just that!