There can't be too many birthday presents which better the chance to play for your country on your special day.
But they'll have to go some to top becoming the youngest player to ever represent your country in the process.
Katie Bowen's fourteenth birthday, on April 15, coincided with the opening match of the New Zealand U-17 squad's history-making three-match tour of Australia, a clash with the Junior Matildas which the Young Ferns won in emphatic fashion, 4-0.
As you'll appreciate, it's easily the most memorable moment in football to date for a young lady who has emerged seemingly from nowhere onto the international stage.
The 2005 Weir Rosebowl MVP caught the eye of national coaching staff at the 2007 National Age-Grade Tournament in Napier, where she emerged as the MVP of the 13th Grade Girls section.
"When I heard that I had been called into the NZ U-17 training squad I was ecstatic, and was dancing round the room with delight", recalls Katie. "Travelling to Australia with the squad and playing on my birthday was the ultimate present anyone could ask for.
"Tears in the changing room and hearing the national anthem made me feel incredibly emotional on a day I'll never forget. The team and coaches were very supportive and congratulatory when I made my debut, and that made me feel a real part of the Young Ferns `family'".
And in the eyes of this relative newcomer, they're a very tight-knit group. "It's really great to be involved because the team is just so close, and all the girls are so friendly.
"The coaches are very professional in their approach to us, but at the same time, easy-going and understanding. They make you want to fight for your place, but help to make the challenge something you need to take seriously and enjoy at the same time".
And there's no denying it's a challenge - the training schedule alone is proof of that. "I'd always played in boys' teams, right up to the U-14 Metropolitan League, and through that experienced very hard work and the expectation to develop a similar level of strength and on-ball ability.
"The key difference between that and this training regime is the intensity level - the fitness training is definitely harder than anything I've experienced. You know you're being closely watched, so I always feel the need to perform well".
The Lynfield College Year 9 Dux Ludorum played for Oratia United right throughout her career until this season, and she concluded her career at the Parrs Park club as their Most Promising Youth Grade Player.
Glenfield Rovers' new recruit also bid adieu to the biggest influence on her career when she left the West Auckland club. "George Vale was my coach for two years at Oratia. He pushed me to my limits and never took no for an answer.
"He put a lot of time and effort into me, often taking me for individual training sessions. He treated me like just another boy in his team, never allowing me to have any excuses for bad play, but at the same time considering me as a second daughter".
Family, too, have been just as influential on the Auckland-born right-back or right-sided midfielder. "We're a football family. Dad, Dave, and Mum, Pippa, take me everywhere and put heaps of time and effort into my football. They have always been encouraging and come to all my games.
"Extended family in England, including my Grandma, take a great interest in my footballing progress, and it means a lot, as does the support of my brothers, Danny and Patrick (Patch), and sister, Kelly.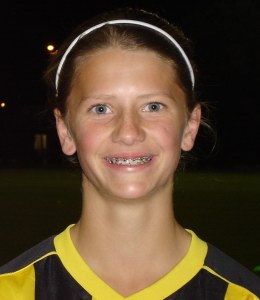 Katie Bowen's Favourites
TV Show

Desperate Housewives

Movie

The Shawshank Redemption

Actor

Ben Stiller

Actress

Sandra Bullock

Author

Roald Dahl

Music

Everything and anything that sounds good!

Food

Fettucine carbonara,

Mum's cooking

Football player

Cristiano Ronaldo,

Anna Barlow

Football team

Manchester United

Other sports

Touch rugby, Tennis, Dancing, Basketball

Other sports stars

Tiger Woods,

Roger Federer

School subject

Maths

Best Country Visited

England, Fiji, Singapore, Thailand, USA

Way to Relax

Hanging with friends, watching TV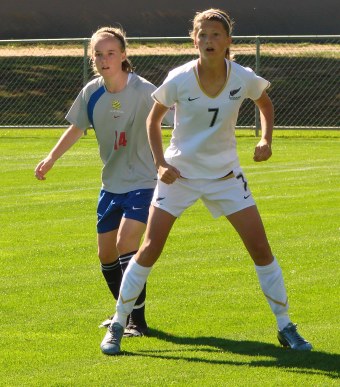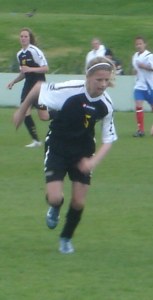 "Both my brothers have played since they were small, and after watching them, I wanted to become a footballer too. The four of us would play many games of indoor football in our garage, using fold-out goals and a small soft ball. It was rough but fun and I enjoyed the challenge and arguments over the scoreline!!"
It's not hard to get the impression from this revelation that Katie doesn't like losing. "I hate it!" she exclaims. "Losing and feeling I've had a bad game are the worst aspects of football, as far as I'm concerned.
"Needless to say, I enjoy winning and love the celebrations when people score. I like to score myself but I'm just as happy when I've managed to set someone else up for a scoring opportunity".
There was one particular game earlier this year, however, when `Ducky' - one of Katie's nicknames - was celebrating because she kept a particular person scoreless, and she'll never live down what happened afterwards.
"The Young Ferns are playing in the U-15 Metropolitan League this year, and it was a great moment for me when I managed to stop my old team-mate, Jordan Vale, from scoring against us when we encountered his Oratia team.
"Unfortunately, I was so stoked that I performed an embarrassing victory dance - best to be forgotten by any poor soul who saw it!!
"Still, it bore out my brother Patch's advice. He's always reminding us that you only live life once and you should go hard at the things you want to achieve and just have fun getting there".
And there's been plenty of fun along the way for a young lady who considers getting into the final U-17 Women's World Cup squad will be her biggest challenge, "because there are so many talented girls going for a place.
"The best night by far we've had together was that of the 2008 YFF Dance-Off - it was hilarious, and a night I'll never forget".
The joy of that occasion contrasts sharply with the disappointment Katie felt at the start of last year's Lion Foundation National Women's League campaign. "Not being selected to play for the US1 women's team in their first game against Mainland was my worst footballing experience so far.
"I had been so looking forward to catching the plane with the rest of the team and travelling to the South Island for the first time".
Travelling to Australia on international duty within six months of that setback certainly made up for it, however. "It is a great honour to be representing New Zealand at my age. It's just awesome! It really brings the nerves to the surface but makes you want to succeed to your full potential".
Potential which sees Katie targeting twin ambitions in her fledgling career - a place in the 2008 U-17 Women's World Cup squad, and representing New Zealand in football at the 2012 Olympic Games.
Such prospects were a pipe dream for a young lady who began her career less than a decade ago. "Playing football just seemed a natural thing to do, as all my family and a lot of our friends enjoy the game.
"I support Manchester United and Mrs Drey, my primary school teacher, was also a big fan. So from an early age, I took an interest in their results and enjoyed watching them on TV".
Needless to say, Katie Bowen is well pleased with their latest achievement. Although nowhere near as proud as she is of her own footballing exploit, the honour of being New Zealand's youngest ever international one this Young Fern is set to hold for some time yet.