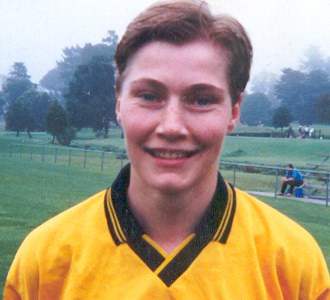 She's scored more goals in the Bluebird Northern Premier Women's League this season than almost any other team in the competition. In just 40 games for her club, Three Kings United, she's found the net 118 times. And she's one of only two players to have scored a hat-trick in the final of the National Women's Soccer Tournament.
She's Pernille Andersen, a striker with attitude, who's better known to her team-mates by her nickname, "Skalle".
Not satisfied with her efforts in 1997 - she only (!) scored 49 league goals, when her target was the competition record of 50, 'The Danish Destroyer' - she was born in Aarhus - is on a personal crusade this year to set a new mark. She's nearly there already, having notched 46 goals in the competition with just two games left to play. But that's not all she's out to achieve.
"I want to help Three Kings win all the competitions we've entered, which basically means going through the season unbeaten. As well, I want to score some goals for New Zealand in the Women's World Cup qualifiers in October".
Ah yes, the Women's World Cup. The SWANZ, as New Zealand's national women's team is known, recently completed a six-match tour of Europe and the USA as part of their preparations for those games, a tour which included two internationals against both Germany and the USA, respectively women's soccer's European and Olympic champions.
Twenty-five-year-old Pernille was part of the SWANZ squad on that tour, having gained her New Zealand permanent residency just days beforehand. And there are some aspects of the game learnt on the tour which she hopes will be utilised by her international team-mates when they take on the likes of Australia in October.
"It was a perfectly organised tour, especially playing against two of the three leading nations currently playing women's soccer. We certainly learnt a lot from the experience, but the question now is how much of what we've learnt has been retained - we haven't been together as a group since the tour, despite talk to the contrary".
"Our speed and our technical ability are what we have to improve on", she continues. "I believe we're fit enough, thanks in part to the programmes designed for us by the Auckland Institute of Technology staff. But it's our ball skills where we really let ourselves down. There is little to be gained from long-distance running sessions, particularly when we're fit from half a season's match-play. What is really needed are concentrated sessions focused solely on developing
ball skills".
It could be argued that players should already boast those skills in order to be a part of the national side in the first place. But Pernille disagrees. "I arrived in New Zealand in 1995, and since then, improvement has been made, but there is still a great deal for us to learn, as we saw on the 'Champions Tour'".
"It comes down to how we coach our youngsters. I do not wish to criticise the efforts of the mums and dads who, though they're not familiar with the technical aspects of soccer, get roped in to taking their child's team. But the habits children pick up at a young age tend to be the ones they resort to further on down the line".
"I believe that's the case with a number of the players in the New Zealand team today. They received little technical coaching when they were learning how to play the game, and now it's too late for them to change their ways".
Coming from someone who was good enough to be chosen to play for her native country in friendly internationals at Under-16 and Under-20 level, only for injury to intervene, this is fair comment. So what is Pernille doing playing soccer in a country thousands of miles from her Scandinavian homeland?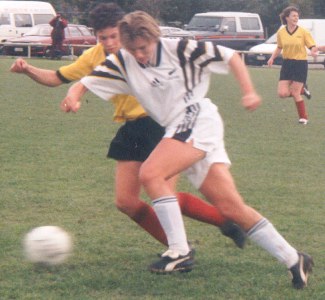 "I was unable to continue playing in Denmark due to the knee ligament injuries I picked up there. I didn't want to stop playing soccer - it's my life - so I decided to take the opportunity to come and play in a different country. I opted for New Zealand, mainly because a soccer colleague of mine was living here. That was in 1995, and I haven't looked back since. Indeed, the last couple of years have been two of the very best of my career".
After playing for Claudelands Rovers in the Waikato for a couple of seasons, Pernille switched to Three Kings United in time for the 1997 campaign. "There's simply no comparison between the two clubs. There is a far greater level of professionalism at Three Kings, and in Auckland generally. There are more competitions too - more games for me to score goals in!!"
"Ending last season with the Auckland Player of the Year trophy, along with winners' medals from both the Auckland Women's Knockout and the SWANZ Knockout Cup with Three Kings, and the National Tournament with Auckland, crowned a tremendous season for me personally".
Half a season on, and the Three Kings United machine is rolling relentlessly on, having scored an average of just over eight goals a game in their twelve league matches to August 12. The secret to their success?
"I think it's a combination of some really, really good players, coupled with a few who aren't quite up to the standard of that group, but who contribute towards a near-perfect footballing cocktail. Along with our great team spirit, one of the best aspects of the Three Kings squad is its depth. If someone picks up an injury, someone else is able to slot in and do just as good a job. It's a great position for any team to be in, and one we certainly enjoy".
"Arguably another aspect of our success is the way we play the game", says the master markswoman. "We pass the ball around and break down the opposition through using that approach, as opposed to the more direct route to goal so often seen in New Zealand soccer".
"Personally, I don't think our passing game plays that great a role in our endeavours - after all, anyone can pass the ball, be they a good player or a bad one! For me, it's the combination of players we boast which sets us apart from our rivals".
With seven Three Kings players in the eighteen-strong SWANZ squad on the recent 'Champions Tour', the passing game prevailed on the first leg of the tour, against two leading Dutch club sides. "We played some really good football against them, and took all our chances", Pernille says, modestly declining to mention the fact that she scored five of the eleven goals.
"Above all, however, it showed that we're well capable of playing the passing game at international level", said the prolific markswoman, whose former clubs include Danish sides Rolsted, B1913, B1919, OB Odense and HEI, as well as English side Millwall, and, in New Zealand, Claudelands Rovers, from whom Three Kings signed the 1995 Waikato representative.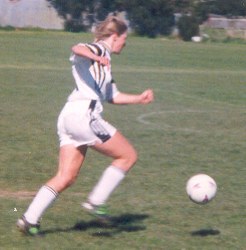 It was a different story when it came to mixing it with the big guns, as Pernille explains. "When we took on the Germans and the USA, we were found wanting, as they played us off the park with a short-passing game which always allowed the player on the ball the luxury of being able to look up and find a colleague in space ready to receive it".
"In the end, we panicked, resorting to the 'kick and chase' approach, which is not what we set out to do".
"For me personally, that, and not playing against the USA's Mia Hamm, whom I consider to be the best role model for women's soccer in the world today, were the biggest disappointments of the tour, particularly as I believe there are enough good players around the country to enable us to play the passing game we should be looking to employ on the international stage".
Hopefully the SWANZ will rediscover the passing game in time for the upcoming Women's World Cup qualifying series, which takes place in Auckland between October 3-18. And how does Pernille rate our chances? "I believe we've got a good chance of qualifying for next year's finals".
If this goalscoring phenomenon, who, off the field, likes to "just relax" when she's not putting her horticulture degree to good use for the Auckland City Council, has any say in the matter, New Zealand will definitely be in the USA next June. And there are no prizes for guessing who will be the likely source of many of their goals.
NB The Oceania qualifiers proved to be Pernille's final flourish on the football field, as she was forced to hang up her boots on medical advice soon afterwards. Needless to say, she signed off with a barrage of goals - fifteen, no less, which included breaking the individual goalscoring record for New Zealand twice! - to finish as the tournament's top goalscorer.