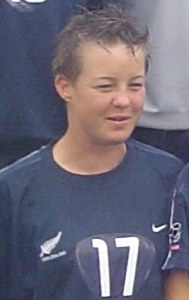 Zarnia Cogle is not your average soccer player. Indeed, she's the complete antithesis of what you would expect your average soccer player to be like!
"I don't follow football - I never really have!", she said with jaw-dropping honesty in the comfortable surroundings of the Hotel Grand Chancellor Brisbane, the home away from home for the New Zealand women's soccer team while they contest the 2004 Australia Cup.
"I used to watch 'Big League Soccer' on Sundays, but since its demise, I'll watch games, but I won't go out of my way to do so. In fact, I watch rugby more than I do soccer!!"
Such refreshing frankness is to be expected from a dyed-in-the-wool Cantabrian. As are the numerous pieces of jewellery which she dons when not causing chaos on a soccer pitch. "They're part of my personality", says the bubbly 27-year-old, whose footballing talents are such that she was named Player of the Year in her native province in 2003, seeing off rivals both male and female to claim this prized honour.
So how did she get to where she is today, one of the most experienced players in the New Zealand women's squad, with a total of fifteen caps to her name after her country's 3-0 defeat by China in Brisbane?
"Mum and Dad used to play, and I followed in their footsteps. I started at about five years of age with Papanui-Redwood, before moving to Nomads United, with whom I spent quite a few years, before another change of club, this time to Christchurch Technical".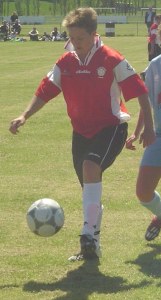 The lure of Nomads was too strong, however, and Zarnia returned there soon afterwards, before developing itchy feet once more. "I went to Halswell United, then Hillsborough, before moving to New Brighton, where I've been for the last four years. I like it there - it's an enjoyable club, with good people involved in it".
She has represented Canterbury with aplomb for a number of years now, first coming to the nation's attention when named Young Player of the National Tournament in 1995. A year later came a triumph even more special.
"Winning the 1996 Nationals was tremendous - something we'd been trying to do for a few years, and something we're keen to do again, now in the form of the National Women's
League, under the guise of Mainland Soccer.
"Winning the Players' Player of the Year award in 2000 was awesome - to be acknowledged by your peers is the ultimate recognition. Also that year, being part of New Zealand's Pacific Cup squad was pretty special too".
That competition, which saw the team then known as the SWANZ take on the likes of Japan, Canada, Australia, China and then world champions the USA, was the one which saw Zarnia establish herself as a regular international for her country. Four years on, she is the second most capped player in the squad contesting the Australia Cup, and she has witnessed a few changes along the way ...
"It's a young squad, that's for sure, and as a senior player now, an important part of my involvement from here on in will be to support the newcomers and help them establish themselves at this level", says a player who is naturally right-footed, but is just as effective on the left flank.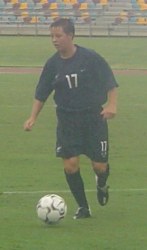 "One of the key things of this tour for me is to help bring about a cohesive group, who enjoy what they do and have fun. At the same time, I need to keep playing well myself, and earning selection on merit, while encouraging and supporting the team.
"One thing which really stands out on this tour, compared to others, is the emphasis on specific aspects of the game, such as the sports science work. While we've had the basic ideas of this introduced to us on previous international campaigns, this time it's being fully utilised - it's good, and about time too!!"
For someone who rates mountain-biking and reading books by John Grisham and Patricia Cornwell among her hobbies - "Anything but chess or synchronised swimming!!" - and loves to eat stir-fry chicken and home-made cooking, Zarnia's ambitions in life are another reflection of one of the true characters of the New Zealand women's soccer scene.
"I'm currently studying the practical aspects of adventure tourism at Christchurch Polytechnic, and when I've finished my studies, I would like to work with disabled athletes and disabled people in the area of outdoor pursuits. I'm very much an active, outdoors type - a desk job's not for me!!"
On the field, the Morgan Freeman fan is a little more modest about her playing prospects. "I still want to be playing in five years' time", says Zarnia, "and I'd like to have the ability to be around in 2007 and beyond, and be part of New Zealand's quest to qualify for and compete at the Women's World Cup Finals".
On the form she has shown so far in Brisbane, as a senior member of a new-look New Zealand squad which has qualifying for China 2007 as its prime objective, Zarnia Cogle should be quietly confident of her prospects with regards achieving these ambitions - after all, she's not your average soccer player!