Criminal psychology and football aren't the most obvious of bedfellows, but where inspirational Capital Soccer star Patrice Bourke is concerned, it's definitely a winning combination.
Indeed, this well-studied 27-year-old has travelled the world practising her favourite pursuits, and she has no intentions of stopping just yet - she's enjoying her twin challenges far too much to contemplate the prospect!
"One of my biggest goals is to complete my PhD by the time I'm thirty", says the U2 fan, who may have to defer that objective by a few weeks if another of her targets, which is also scheduled to take place around
mid-2007, comes to fruition.
"I'd like to make the New Zealand squad for the Women's World Cup Finals in China, too", says a young lady whose midfield dominance was a key factor in Capital's 2-1 triumph over Auckland-Manukau in the National Women's League Grand Final.
What enhances that performance even more is that Patrice freely admits that "central midfield is a position I haven't played in before, so it's a real challenge for me".
Back in the days when she played in Auckland, the daughter of former All White Eric Lesbirel graced the colours of Metro, Waitemata, Oratia United, West Auckland and Avondale Collegiate as she grew up. "I basically played at whatever club mum was playing for!"
Mum is Cheryl, who started coaching Patrice when she was four years of age. Some thirteen years later, a proud mum was delighted to see her daughter playing in defence for Auckland, as they won the 1995 National Women's Tournament in Wellington under coach Keith Garland.
"Bourkie" played four games for the "A Team" that year, scoring against Manawatu, and has also represented the province at U-17 and U-19 level.
Appearances for her country at U-17, U-20 and secondary schoolgirls level also grace her CV.
She was also, by this time, playing for Avondale United, soon to become Lynn-Avon United, a club to whom Patrice has contributed the bulk of her senior playing years to date, albeit in fits and starts.
For after winning the Premier Women's League with Avondale in 1995, she left town, along with team-mate Abby Allan, towards the end of the following season to take up a four-year soccer scholarship at Fairfield University - something of a pioneering venture at the time, but a pathway which, today, is becoming increasingly common for our top young players to follow.
"They were good times", recalls Bourke of her days playing as a defender for the Maria Piechocki-coached Fairfield Stags. "We won three consecutive Metro Atlantic Athletic Conference (MAAC) Tournament titles, and advanced to the NCAA play-offs each year", says the MVP of the 1999 MAAC Tournament.
"I wasn't just there for the soccer, however. I graduated in May 2000 with a Bachelor of Arts degree, having majored in Psychology, and minored in Criminal Justice and Philosophy".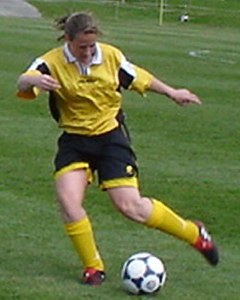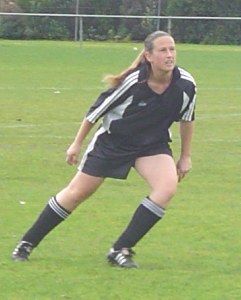 This is one lady with whom it wouldn't pay to have an argument!! But why psychology? "I greatly enjoy the psychology of crime and law - it comes naturally to me", declared Patrice, who acknowledges the role of one of her lecturers and her great uncle, Bryan Porter, in inspiring her to continue her studies still further.
September 2000 saw Patrice arriving on Merseyside at the University of Liverpool, preparing to embark on her Masters degree in Investigative Psychology, specialising in the art of criminal profiling. Football-wise, however, this Reds fan was faced with something of a dilemma!
"I wanted to play at the highest level I could, which, in England, was the Premier Women's League. However, Liverpool were in the Northern Division, one tier down from the top flight, unlike their cross-town rivals. So I signed for Everton, who had won the FA Premier Women's League in 1998".
Patrice's time as a Toffee was short-lived. "I was working in a residential youth offending home while conducting my studies, and that alone was demanding up to sixty hours of my time each week - it certainly wasn't easy street, either!
"Everton wanted me to put in quite a lot of time with training, etc., and what with needing to work as well, I ultimately didn't have the time available to devote to my football, so I played just the one season in
England".
Patrice returned home in December 2003 to begin her PhD in criminal psychology at Victoria University. Soccer-wise, reigning Wellington women's champions Seatoun offered the best quality football in town, and wasted little time in securing the services of the newcomer to the capital.
When asked about how things have changed in the time she has been away, our learned subject is greatly enthusiastic. "The changes in women's soccer here are huge. When I left, it was difficult to get everyone together for a week-long camp - now everyone in national team contention is flown up to Auckland for training at least once a month!
"As for the provincial competition, the National Women's League is a lot better than the National Women's Tournament. It offers a far better quality of play, which is what you're looking for".
Patrice's initial experience of NWL football has, of course, been highly successful. "This was the first time I've been one of the older girls in the team - it seems funny saying that when, at my age, you're far from
being considered old!!
"Having played in defence throughout my career to date, I also found myself learning on the job in a new central midfield role, and with my experience came a need to bring my leadership skills to the fore.
"As a team, we clicked really well, with the youngsters really rising to the challenge. The special ingredients Capital showed it has in abundance are some of the most important of all - big hearts and loads of character".
Having a student of criminal psychology holding court in the midfield battle certainly didn't do the cause any harm, either. As Auckland-Manukau discovered, it doesn't pay to argue with Patrice Bourke.