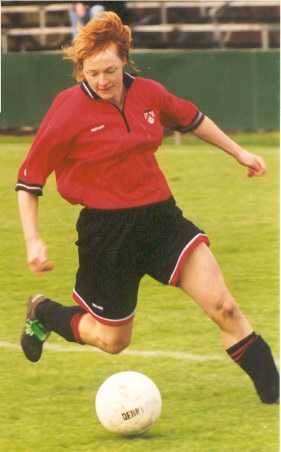 Canterbury and New Zealand women's soccer defender Rachel Oliver couldn't believe she had been involved in the sport for sixteen years when looking back on her career recently. "I enjoy it so much", said the SWANZ international, who hopes to play a key role in her country's forthcoming Women's World Cup qualifying matches, which take place in Auckland in October.
"I started playing seriously as an eleven-year-old alongside the boys at Kaiapoi, although I had played a bit at primary school. When I was thirteen, I moved to the Nomads club in Christchurch on a friend's suggestion, based on the atmosphere at the club and the quality of coaching there. I've been there ever since".
That was thirteen years ago. In that time, the auburn-haired twenty-six-year-old has come under the watchful eye of Frank and Noeline Rutherford, Eddie Brownlie, Harvey Bussell and former SWANZ international Julia Campbell.
"Julia and Lorraine Taylor have been significant inspirations in my career, both having been members of the national side when I was making my way up through the grades. They were the only players I knew initially".
"My most important mentor, aside from my parents, of course, has been Noeline Rutherford. She has always been a source of encouragement to me, and has played a large part in my being in the position I am today. She doesn't coach much nowadays, but she's still there in the background, and I maintain regular contact with her to this day".
Good coaches often bring about successful teams, and Rachel has enjoyed her fair share of triumphant times at Nomads. "Winning the league is something which has become a habit - 1997 was the first time Nomads failed to win the title since 1985! But we did compensate by winning the knockout over our rivals, Halswell".
Individual honours have also come Rachel's way. Capped seven times by her country - she made her international debut in 1995 - she won the New Zealand Players' Player of the Year award two years previously, and was a member of the Canterbury side which won the National Championship in 1996, the only time the province has clinched the crown.
And like every other women's soccer player with ambitions of playing for her country, she has one objective for 1998. "I'm hoping to make the World Cup qualifying series squad, so much so that I'm putting the rest of my life on hold in order to commit myself to achieving the goal".
"The next World Cup Finals, in 2003, will see me over the thirty mark, in terms of age, and whether the level of commitment I have now will be the same in five years is something I can't forecast. As well, there are younger players coming through who will have similar ambitions to mine. So I'm really going for it this time round".
"After I've finished playing, I want to put something back into the game. I'm already doing something in that regard, as I have assisted national coach Maurice Tillotson in coaching Under-13 players in the past. But before that time comes, I hope to continue to improve my game, and above all, keep enjoying it".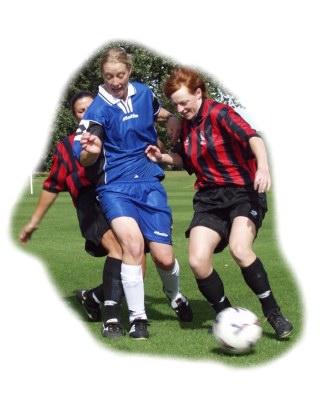 When not involved in soccer, Oliver lists playing touch and golf - a Tiger Woods fan, reading and socialising as her main interests, along with anything to do with animals. She's an assistant farm manager by trade, one with definite ideas on the direction women's soccer in this country needs to take.
"We have got a very good chance of qualifying for USA '99. We've certainly got the administrators to give us the direction to get there, but I feel at the moment that our plans are being mapped out for us by others to some extent, i.e. women's soccer doesn't fully control its own destiny".
"New Zealand is a big enough country for businesses to involve themselves in women's soccer through sponsorship and other such activities. Why do we have to go overseas to play quality opposition, for instance? Prior to five games in 1996, the last time New Zealand played an international on home soil was in 1991!"
"We need to keep pushing for international fixtures to be played here, but in order for that to happen, we need to have a high profile for the sport, and that won't come about unless we have the means to get one".
The upcoming World Cup qualifiers should play a part in helping women's soccer get the profile it desires - that's when the players can certainly do their bit for the cause. Rachel Oliver hopes to be one of the contingent Maurice Tillotson chooses to don the SWANZ jersey between October 3 and 18. Should she be given the chance, you can rest assured she will enjoy every minute of the action!