When the Northern Premier Women's League competition kicks off this month, there will be a fair few folk doing double-takes at the sight of Sarah Gibbs in Claudelands Rovers' colours.
The feisty fullback is making Hamilton her home this season, as she completes the last year of her Law degree at Waikato University, having clocked up more than her fair share of miles travelling backwards and forwards twixt Auckland and the campus throughout 2005.
"The move is a necessity for my own sanity!", declared the former North Harbour and Auckland representative on her latest federation switch. "The travel between home and Hamilton was placing huge demands on my time and energy, my personal life, and was upsetting my training schedule.
"I couldn't commit to my study or training programme as much as I wanted to, given the prevailing constraints, so I've opted to move south for the year".
Given the burgeoning talents of Helen Collins, Katie Hoyle, Kimberley Lewis and Holly Nixon which Claudelands already boast in their ranks, the addition of the four-times-capped New Zealand international will add welcome experience to a side which enjoyed a third-placed finish - its best season in years - in the 2005 campaign.
Experience and competitiveness. Because there are few players in the women's game who boast as great a desire to win as "Gibbsy".
"I think I'm one of the biggest competitors around - winning is what drives me! So much so that it's fair to say I'm cut-throatedly determined about it!! Your hard work, train, team dynamics, common goals …everything is a tool towards winning at the end of the day!"
Ironic, then, that Sarah has savoured the winners' circle just once in her football career to date, a result of helping Auckland win last year's Lion Foundation National Women's League Grand Final against Capital Soccer.
"That was a great feeling", the twenty-three-year-old says of finally getting her hands on a winner's medal. "The previous year, I'd received runners-up medals in both the Uncle Toby's Cup and National League Grand Final, and I hated it. So winning the final at Newtown Park was a definite case of sweet retribution".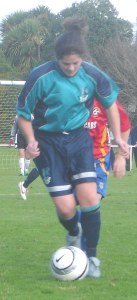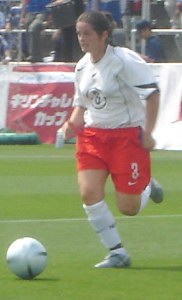 Sarah Gibbs' Favourites
Player

Roberto Carlos, Ashley Cole

Food

Eclectic tastes - anything goes

Reading

Biographies, non-fiction

TV Show

Desperate Housewives,

Greys Anatomy, Nip Tuck, Family Guy

Other sports

Tennis

Country visited

Australia

It's not the only highlight in "Gibbsy"'s career thus far, mind. For someone who cherishes making New Zealand teams in any capacity, her international debut against Australia in 2004 was a "pretty special" moment, as were her appearances for the national Under-19 team at both the 1998 Dallas Cup tournament and in two matches against the Australian Secondary Schoolgirls squad in January 1999.
"Not long after those matches, I broke my ankle in pre-season training - I'd only just transferred to Three Kings after starting out west under Dave Parkinson's tutelage at Oratia United.
"That injury was a bit upsetting, to put it mildly. It knocked me sideways, so much so that I didn't kick a ball in anger again until the 2001 season, where I spent the first of three seasons at Takapuna. Coming back from the injury, and making the North Harbour team in that season's National Women's Tournament, are two other career highlights".
The seventeen-times-capped Auckland representative - she made her "A Team" debut in a friendly international against Papua New Guinea in October 1998 - began playing soccer aged four, following in the footsteps of brother Jared.
"Playing with the boys during school lunchtimes, and in the midgets at Mt. Roskill, as it was then", grins `Gibbsy' as she recalls her introduction to the sport in the mid-1980s. She was a pretty mean tennis player too, "but with the soccer season being so long now, you can't play two sports competitively these days", she laments.
Twenty years on, her sporting ambitions have moved with the times. "I aim to be the best left-back in New Zealand, be in the first-choice starting line-up of the New Zealand team, and be involved in the Women's World Cup and Olympic qualifying campaigns. As well, play as long and as hard as I can, and steer clear from injury".
Phew! She drives a hard bargain, does this Auckland University B.Com graduate, and you can guarantee that will be the case in her chosen career, too. "Obviously I want to be a good lawyer, probably in the commercial field.
"I've always wanted to be a lawyer - it suits my nature. I've got a strong sense of justice, and I'm thoroughly argumentative!!"
`Gibbsy', whoever would have guessed?