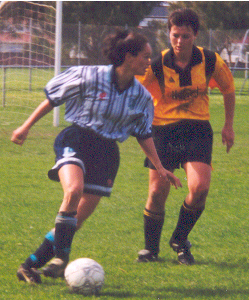 Some people visiting this site, having noted the names of the players profiled in this section, will, no doubt, be asking themselves, "Maria Wilkie?"
And with no New Zealand appearances to her name soccer-wise - she is, however, a touch rugby international for her country, well they may.
But while Maria may not been the most gifted footballer in the world, she was certainly one of the unsung heroes of the Auckland women's soccer scene during the 1990s, and this writer will always remember her contribution to the code fondly, with three attributes in particular richly deserving of mention - her pace, her heart and her personality.
Anyone who saw her in action will know what I'm referring to re the first attribute - Maria had explosive acceleration, hence the nickname "Speedo".
Man, was she fast!! More often than not, I ran the line on Sunday mornings for Eden / Three Kings during their matches from 1992 on. Now I'm the first to admit I'm no Michael Owen or Linford Christie, but "Speedo"'s attacking surges certainly helped keep me fit throughout the 20th century's last decade, I can tell you!!
Bursting past defenders in pursuit of through balls was her forte, and if you weren't anticipating her hitting the turbo booster, you may as well have waved her goodbye and shut the gate there and then, as this frisky filly went whoosh!!
While speed was a big part of Maria's game, it wasn't her only strength. If anything, heart played an even greater role in the spunky speedster's make-up, and hers was MASSIVE - wild horses wouldn't stop her!!
Maria gave nothing less than her all for the cause every time. Even when she was having an off-day, she could never be accused of not trying her best for the team's sake - "Speedo" was enthusiasm personified, and she never, ever gave up.
It was that willingness to go the extra distance for the sake of the team which gained Maria her lone individual honour in women's soccer - the much-coveted Most Valuable Player award from the 1997 WSANZ Knockout Cup Final, as Three Kings edged Petone 7-5 in a whale of a game.
She has a few more mementos to look back on with pride from her all-too-short women's soccer career with Eden and Three Kings United. Having first appeared on the scene in 1993, her first honours at club level came along four years later, as Three Kings completed the Knockout double.
1998, of course, was the year of Three Kings' "Grand Slam", as the previous campaign's prizes were enhanced by the Northern Premier Women's League championship, and the Champion-of-Champions trophy.
In the aftermath of her most successful season ever, Maria stepped down from playing at premier level due to her increasing touch rugby commitments. But she kept her hand in with the club's reserve side off and on during 1999, and was able to answer the call to the first team when she was most needed - no less a match than that year's WSANZ Knockout Cup Final.
After scoring in the 1998 showpiece, "Speedo" came on as a substitute in what was her final game in senior women's soccer and helped Three Kings achieve the "three-peat", thus concluding her career somewhat fittingly in the winners' circle, having scored sixty goals - one every two games - for the team in her seven seasons.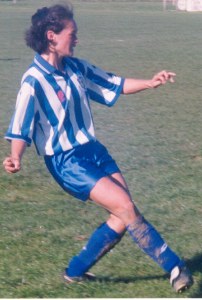 In that time, she also made twenty-nine appearances for Auckland's "A Team", scoring eleven goals, including a hat-trick in her last match at representative level, a friendly international against Samoa in 1998.
She helped the "A Team" to two National Tournament titles, in 1995 and 1998, while in 1997, Maria played an integral role in Auckland B's Section Two triumph at the Nationals, scoring four goals in as many matches.
As well as pace aplenty, and a heart as big as a bucket, there is one other attribute which sets Maria apart from many of her peers in this writer's eyes - a very special personality, with a smile to match.
It takes all kinds to make up a team, and "Speedo" always struck me as the sensible, level-headed type, who, while enjoying herself to the full, would invariably make the effort to make sure others were doing so as well.
I will always remember Maria Wilkie as a great-natured young lady with a heart of gold who, for mine, hung up her jet-heeled boots far too early, but who deservedly, and fittingly, concluded her women's soccer career on a winning note.