Five months ago, Maggie Lankshear was at her lowest ebb, her dreams of playing in the FIFA U-20 Women's World Cup Finals in tatters, and the idea of giving away the game she loves very much in her thoughts.
Being told that she was being dropped from the squad going to Samoa to qualify for the finals struck the combative midfielder with all the subtlety of a sledgehammer, and she struggled to terms with her omission for some days afterwards.
"It was the biggest blow I've ever suffered, no question", the eighteen-year-old Tauranga native freely admits. "I'd never failed to be selected for any representative team for which I was in contention to this point, so I was feeling quite confident that I'd make the squad, particularly given I'd just scored a hat-trick against North Force in our final preparation match before going to Samoa.
"I was at work when I received the phone call, and I was so distraught afterwards that I had to go home. I was quite shocked and incredibly upset, and went through a whole raft of mixed emotions in the immediate aftermath of the news.
"There was one feeling that kept coming back to haunt me at the time which I just couldn't shake - the feeling that, by missing out on selection, I'd let everyone down".
That wasn't the case, of course, and when the New Zealand squad takes to the field at the FIFA U-20 Women's World Cup Finals in Russia, the midfield powerhouse hopes to be well in the thick of the action, having fought her way back from the depths of despair to savour at first hand the ultimate stage on which a teenage soccer player can shine.
"I was extremely disappointed at missing out on Samoa. But John Herdman is such an amazing communicator and good coach, and together with my captain at Three Kings United, Maia Jackman, we went for a coffee in Mission Bay one day, a meeting from which I benefited hugely.
"In short, he talked me out of quitting, something which was definitely on my mind. He did it by explaining to me the reasons why I'd missed out on selection, which were basically to do with my fitness levels and the consistency of my performances. And in hindsight, I can see he was right.
"That setback proved to be a timely wake-up call for me, and the influence of John and the squad helped me keep on going. The likes of Sarah Gregorius - my best friend in the game - and Hannah Rishworth took time out to help me get back on track, and by heeding John's advice, I fought my way back into contention".
Her reward was a place in the squad which toured Argentina in June, a trip Maggie relished, despite suffering another setback during it, this time on the field. "I was sent off in the game against the Argentina U-20s - it was unbelievable, as I was nowhere the player when she blatantly fell to the ground behind the referee's back.
"I went over to her to see if she was alright, and while doing so, a few of her team-mates screamed at the referee and pointed at me saying I'd kicked her in the head. I'd done no such thing, of course, as the video proves. Yet out came the red card, and off I went, furious at the injustice of it all!!
"The Argentinians couldn't handle our physicality", declares the strongly built former NZ Secondary Schoolgirls international. "That was one of the huge positives to come out of an amazing tour - I loved it!"
Certainly a lot more than she did the Brownies and the Girl Guides, obviously. "Urgh! Let's not talk about that - I couldn't stand them!!" groans Maggie of the days before this self-confessed tomboy started playing soccer. "I joined Omokoroa Soccer Club in 1995,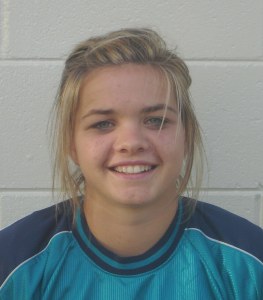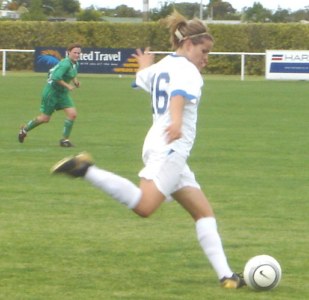 Maggie Lankshear's Favourites
Club

Liverpool,

Manchester United

Footballers

Cristiano Ronaldo, David Beckham, Ashley Cole

Movie

Love Actually

TV Show

Gray's Anatomy,

Desperate Housewives

Actress

Cameron Diaz

Author

Janet Frame

Music

All kinds except

heavy metal

Other sports

Golf, Basketball

Other sports star

The Evers-Swindell twins

School subject

Drama

Way to Relax

Hang out with friends, go to the movies, go to the beach, listen to music, get a facial & a massage -

nothing better!!

when I was seven, and was the only girl in the boys team - that was great fun!
"Within a couple of years, I was named in Western Bay of Plenty rep teams, then went to Tauranga Girls College, with whom I was part of the 2003 National Secondary Schoolgirls championship-winning team - one of the highlights of my career so far, without a doubt!
"Another was being selected in the NZ Academy U-16 squad which went to Australia in 2004. A year later, I played a full season over there for Manly United, with Sarah and Aroon Clansey. That was another great experience, and I'm always proud of the fact that I scored my penalty in the Grand Final shoot-out - it's always good to score from the spot!"
In the years prior to her trans-tasman sojourn, the set-piece specialist travelled up from Tauranga each week to play for Three Kings United in 2003, before switching to the more conveniently located Claudelands Rovers a year later.
She's back at TKU this season, and on the verge of winning a Northern Premier Women's League championship medal, despite missing the last couple of games for her team, with good reason.
"My grandmother passed away a couple of weeks ago, and I was very close to her. She lived next door to us back home when I was growing up, so it's been a very sad time travelling back and forth between Tauranga and Auckland, where almost all the U-20s have been based this year.
"Naturally, she's had a big influence on my life, as has my family generally, and my parents, Dianne and Derreck, particularly. Mark Youngjohns is a coach who has been a significant factor in my career, having given me a lot of advice, encouragement and instruction in recent years. And John Herdman has been another big influence, of course - a good coach who makes a difference".
He certainly made this Armistice Day baby very happy on July 20, when revealing New Zealand's representatives for Russia. "After having played in Australia last year, being selected for the NZ U-19 Development Squad to play in the National Women's League - a quite interesting experience - gave me something new to focus on, but I wasn't sure if I'd done enough to earn a place in the squad for the Australian tour in February.
"I was delighted when I was included in that squad, but when I was told I was in the squad to go to the finals … it's overwhelming to have been selected, especially after having missed out on the qualifying campaign. It's just awesome!
"Hopefully I'll get some game-time, and really perform well, something which I'm certain we'll do as a team - I feel quite confident about that. I just can't wait to get into it - I'm so excited!!"
Post-Russia, fun-loving Maggie has plans aplenty she wants to put into action, but the order in which she intends implementing them is very much up in the air. "There are so many things I want to do in life - travel, explore the world, get a degree …
"I want to go to the USA, but there are a lot more options than scholarships, so I'm biding my time before making my decision on the path I want to take - I don't want to jump into anything then have regrets about it afterwards.
"Above all, however, I love playing football, and I want to continue doing so, hopefully to the extent of realising my full potential. Getting the chance to play in future World Cup Finals and Olympic tournaments along the way will be a bonus, and after the disappointment I experienced earlier this year, Russia 2006 will always be extra special to me!!"