Late Call-Up Caps Remarkable Rise For
Goal-Getter Liz
by Jeremy Ruane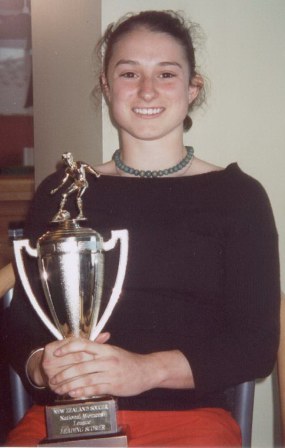 New Zealand's women's soccer team, the SWANZ, head to Texas this week to begin their match preparations for the upcoming Women's World Cup qualifying tournament in Australia.
Of the eighteen players chosen, eight will be donning the silver fern for the first time at senior level, including one player who was not named in the original travelling party.
The late withdrawal, for personal reasons, of New Zealand's International Women's Player of the Year in 2002, Rachel Oliver, has opened the door of opportunity for another newcomer to the international scene, and speedy striker Liz O'Meara is keen to make the most of the chance which has come her way.
"I'm pretty excited about it!" exclaimed the Takapuna goal-getter, who began her career with Forrest Hill-Milford United before
transferring to Lynn-Avon United as a fourteen-year-old in 1997.
She spent the next two seasons of her career under the watchful eye of Dave Parkinson at Oratia United, before breaking through into Premier League football at Three Kings United, where she was a member of the Auckland Premier Women's Knockout Shield-winning combination in 2000.
The following year saw the Hamilton-born striker don the colours of Takapuna and United Soccer for the first time, and in 2002, the former New Zealand Under-17 representative proved her worth for her province, netting eight goals to claim the Golden Boot award as the inaugural National Women's Soccer League's top goalscorer.
It is this form which forced O'Meara into the international reckoning of SWANZ coach Sandy Davie, and this latest boost to her career completes a remarkable rise to the upper echelons of the women's game in New Zealand for the quietly-spoken twenty-year-old.
Having been among those placed on stand-by for the Women's World Cup squad, in the unlikely event of injury or some other unforeseen circumstance, O'Meara, who has "been training hard throughout the summer", is looking forward to seizing this late opportunity afforded her with both hands.
"I'm relishing the prospect of increasing my international experience and playing international teams", says the university student, who will link up with former Three Kings team-mates Maia Jackman and Simone Ferrara in the national squad.
Having previously been a member of the national gymnastics development squad, O'Meara's speed and natural athleticism are likely to be key weapons in the SWANZ armoury, when the squad embarks upon the task of qualifying for the Women's World Cup Finals in Australia in April.