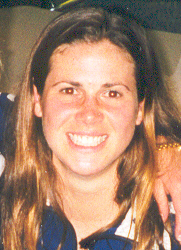 A close friend of Jennifer Kelley, Amy came to Three Kings United soon after the arrival of her fellow US Olympic Development Training Programme graduate, and didn't waste any time in showing that she was a lethal left-footed goal-grabber, belting two goals in her first half-game for the team upon making her debut as a half-time substitute against Papatoetoe.
Once off the mark, she rarely failed to find the target, and was invariably involved in many of United's goals as they marched to the Northern Premier Women's League championship, the Auckland Premier Women's Knockout Shield final, and the WSANZ Knockout Cup final, in which Amy struck one of the goals against Wairarapa United which ensured Three Kings of the coveted "three-peat".
In total, the Libran - born October 16, 1975 - struck twenty goals in her fifteen appearances for Three Kings, one of which will forever be regarded as one of the best goals ever scored by a team representing Eden / Three Kings United.
On the day "Zoo" scored her first hat-trick for the team - Independence Day, fittingly enough! - United overwhelmed Papatoetoe 10-0, and to complete her hat-trick, Amy rounded off a precision passing masterclass, made up of at least fifteen first-time lay-offs, with a curling left-foot chip - a fitting finish to a goal quite magnificent in its creation.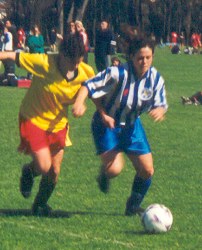 "A Team" selection was almost a foregone conclusion for this bubbly character, and Amy played a key part in one of the outstanding Auckland women's teams of all time. The team set five records during the week-long tournament in Christchurch, with Amy contributing four of the goals which helped establish the first of them, a then record victory for the "A Team", against South Canterbury.
Later in the week, she scored one of Auckland's goals in their stunning 24-0 demolition of Canterbury B, two goals in a 3-0 win against Waikato, and a hat-trick in Auckland's 6-0 rout of Hawke's Bay - all in all, ten goals in eight appearances for the "A Team".
Meanwhile, her set-piece deliveries were instrumental in numerous other "A Team" goals, and she concluded her season in New Zealand with a National Tournament winners' medal to add to her collection, and the knowledge that, like 'JK', she will be welcomed back here with open arms at any time.