Being a late starter in footballing parlance has proven anything but a hindrance to New Zealand women's soccer international Rebecca Simpson.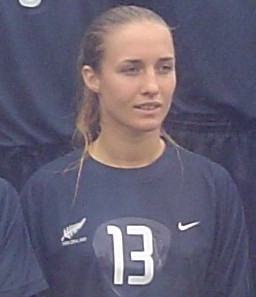 The vivacious twenty-two-year-old has only been playing the game for ten years, but her natural competitiveness and tenacious defensive efforts in that time have seen her force her way into the national women's squad, and make four appearances for her country to date.
"I had a very good friend whose father coached Kristin School's Form Two team", `Simo' recalls of her introduction to the game, "and an extra player was needed for the team. I said OK, and went into defence straight away, at the age of twelve.
"I'd never played at all prior to then, but I quickly began to enjoy it. Another reason I was put in the back-line was my skill levels - they were b****y shocking! They're slowly improving, although I'm not at the level I'd like to be at in that regard".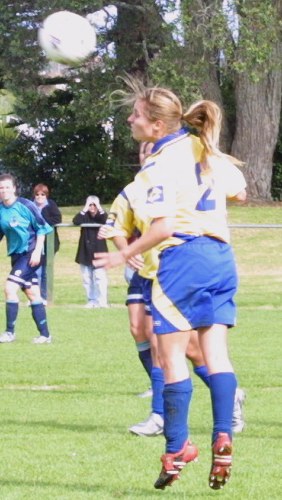 What Rebecca honestly admits to lacking in the more refined aspects of the game, she more than makes up for with her never-say-die approach - she has featured in some memorable match-ups with opposing strikers in recent seasons, most notably New Zealand team-mate Zoe Thompson, against whom she has enjoyed some battle royals at both club and representative level.
"I've been quite surprised to get into the teams I have", says the lifelong North Shore resident, "going right back to being picked for the North Harbour Under-15s - I was talked into attending the trials!
"Three years on, in 2001, I was stoked to make the 2001 NZ Secondary Schoolgirls squad, after Billy Harris and Helen Exler - two people who have been very significant influences on my career and who have both shown faith in me as a player - put my name forward".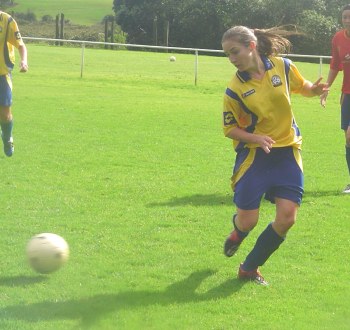 At club level, `Simo' started out at Forrest Hill-Milford United in 1997, and was there for four years before the women's team, and coach Harris, switched en masse to Takapuna, FHMU being unwilling to let the players compete in the Premier League.
Such was Simpson's form in Takapuna's first foray in the Northern Premier Women's League competition that she made her United Soccer debut in the 2001 - and last - National Women's Soccer Tournament.
"The following year saw the start of the National Women's League, and in that inaugural season, we played Capital Soccer. We lost an awesome game 5-4, but it was one of my best-ever performances - I really got stuck in that day. And in 2003, in the rain and mud at English Park, we won the Challenge Cup - another career highlight".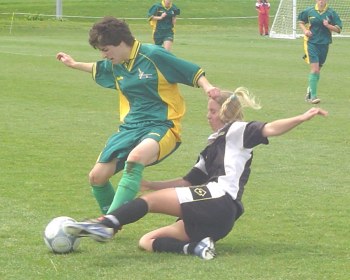 Early in 2004, Rebecca got the call any footballer worth their salt covets. "Being selected in the New Zealand squad to take part in the Australia Cup was a dream come true, as was starting against North Korea in NZ's one hundredth international, despite the final outcome.
"My best performance for New Zealand to date was against China, when I played the entire second half. Playing against the USA last October was another thrill, as was my debut as a substitute against Australia, even though I freaked out! I can still picture it!!"
One of the biggest influences in her career helped made Rebecca's international debut an especially memorable one. "That day, Maia Jackman epitomised what a central defender should be - aggressive, first to the ball … just standing up to the Australians and getting stuck in.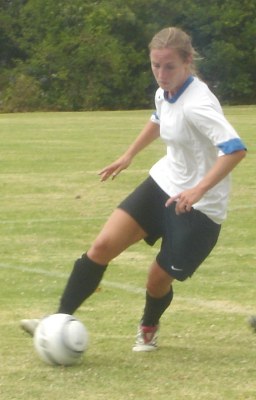 "Given she was playing in a position with which she wasn't familiar, she must have been nervous, but you wouldn't have known it. I don't think I've seen anyone play as well in that position, ever.
"The coach on that trip, Fred Simpson, was very positive, too. He demanded the best we could give of ourselves, but it was the way he went about doing so, getting the balance just right. Must be something to do with his surname!!"
Any number of team-mates over the years have been a regular source of inspiration to `Simo', along with a number of friends from school, some of whom are now playing top-flight football overseas.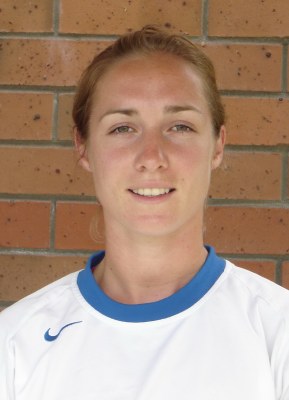 "I wouldn't be involved in football anymore if I hadn't been in an environment which was so enthusiastic and enjoyable, and which offered me improvement and challenged me to improve", declares this strawberry-loving Shawshank Redemption fan.
Off the field, the long-haired brunette with the ever-ready smile is as hard-working and dedicated as she is on it. "I've just finished my Bachelor of Science degree, majoring in Physics, and am currently doing a year of trainee teaching at Auckland University en route to becoming a Physics teacher.
"I also do a lot of tutoring, and coach the Kristin School first eleven girls' team - a delightful bunch! It's huge fun - something I've been doing for three years now.
"Touch rugby is my summer escape, and I do lots of running, of course. I'm a big skiing fan, too. I'm not long returned from Colorado, and a skiing trip with my sister Carolyn - and no, we are not twins! She's fifteen months older than me, and has just graduated in Engineering".
Younger brothers Jacob and Joseph make up the Simpson siblings, all four of whom are the pride and joy of parents Sue and Laurie. Their younger daughter is similarly admiring of their influence and support. "Mum and Dad have been to just about every game I've played. Hamilton, Whangarei - wherever, they've been there!"
There's one place in particular where Rebecca would love to see them in the stands in a couple of years' time. But she and her team-mates have to get there themselves first.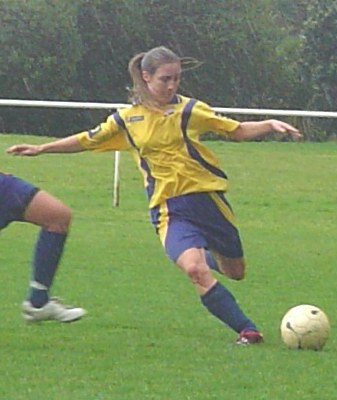 "I'd love to play for New Zealand in China at both the 2007 Women's World Cup Finals and the 2008 Olympic Women's Football Tournament", declares this fan of Rio Ferdinand and Roberto Carlos.
"Before realising that, however, I have a short-term ambition of my own - to improve my skill level and become a more complete player".
Given her penchant for getting stuck in, no matter the calibre of her opponent, you can count on the ever-competitive Rebecca Simpson rising to that particular challenge with gusto, not to mention enjoyment aplenty.