Waikato women's soccer star Kimberley Lewis is working hard and saving her pennies at the moment, but the rewards for doing so should be well worth the effort.
The Hamilton native has been named in the NZ Universities women's squad to take part in the World Universiade Games in Turkey in August, but like all of her team-mates in the twenty-strong squad, she has to come up with $5000 for the privilege of representing her country in Izmir later this year.
"I'm quite excited about it", says the nineteen-year-old about what will be her first chance to wear the silver fern on the world stage. "From what can be seen on the website, it looks really impressive. But the funding side of things will be a bit of a hassle once university starts up again.
"One of the prerequisites for the tournament is that you must be studying full-time. I have two years to go on a Bachelor of Sport and Leisure Studies degree at Waikato University, which means there's precious little
time left for yourself, never mind raising your fare, once you take into account your footballing commitments, particularly training".
It means there's scant chance of Kim serving as the leading hand on board the sailing vessel, 'Spirit of New Zealand', whenever time permits. "I did a ten-day youth development voyage in 2003, and loved it so much that I signed up for the Voyager's Club, from which Spirit's volunteer crew is drawn".
Such leadership dovetails neatly with the unquestioned commitment of a defender whose unruffled playing style suggests an old head rests on her young shoulders. For much of 2004 has seen Kim spend a far amount of time travelling to and from Auckland to play the game she loves.
"Let's just say it's been interesting to see the changes on the Southern Motorway over the course of the year, but it'll be good when the road works are finally finished!!", giggles the scorer of four goals in her brief
Northern Premier Women's League career to date.
Tuesday and Thursday evenings, not to mention Sunday mornings, saw Kim travelling north with Lynda Hemming and Tarena O'Neill to Eastern Suburbs over the course of the season, but such have been Lewis' eye-catching displays since making her NPWL debut with Melville United in 2003 that she
was soon heading north on Monday evenings as well.
"My parents, Kiene and Steve, have supported me immensely as I've sought to better myself in soccer. So when I was asked to take part in the NZ women's
training sessions at North Harbour Stadium over the course of the year, they didn't think twice about what it entailed.
"With Mum being a nurse, she's up at 6am for work. Later in the day, after university, I'd meet her at the hospital and we'd head straight to training from there. It meant a very long Monday for her particularly - the night when we had a seminar on drugs in sport, we didn't get home till 11.45pm - but she was always up first thing next day".
Later in the year, while Kim took part in the Auckland women's squad's training sessions at Waikaraka Park, Mrs Lewis was regularly seen watching her portable TV in the car. "We'd be home from there around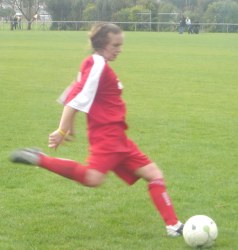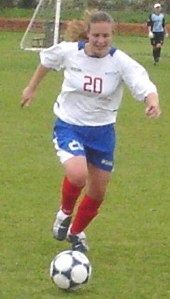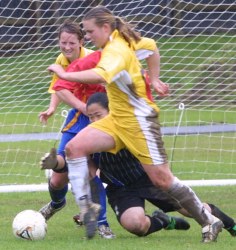 10.30pm, most nights.
"It simply enforces how huge and very supportive an influence my family - brother Richard and sister Rachel as well - have been on my career", says the Creed fan. "I got interested in soccer through tagging along when Dad was coaching Richard's team, and when I turned six, I started playing myself".
Local club Glenview United saw the formative years of a rising defensive talent with ambitions to play for her country, even though, with the exception of one year, she was the only girl in an all-boys team coached by Peter Budgen, of whom Kim says, "He always put in the time and effort to help us develop as players".
This David Beckham fan's footballing horizons changed significantly when she was twelve. "Glenview wanted to put together an elite team in the open grade competition, which would have meant breaking up our side. We wanted to stay together, so we moved en masse to Claudelands Rovers, who, as we were their only junior team, embraced us with open arms.
"Brian Lloyd - another big influence on my career - was our coach, and we went onto win everything in sight that season. A year later, 1999, we took part in the Kanga Cup across the Tasman, where we finished runners-up to Canberra Deakin in the Under-13 age group, and in the Fair Play awards as well".
Being the only girl playing in the boys' competition nearly didn't happen for Kim, however. To play in one of world soccer's biggest youth tournaments, she had to get dispensation from Melville High School, whom
she was to represent on the playing fields over the course of the next three years.
By this time, Waikato representative honours had been bestowed on one of the province's most promising players, with Kim captaining her age-grade teams from 1996 through to the change to federations in 2000. She was making waves at national level, too, as a regular at regional and national academies.
"In 2001, I joined Melville United's senior women's team, and we won the Waikato First Division that season and the next, a year which saw me play for the NZ Under-17 Development Squad in the inaugural National Women's League.
"The following year, I wore Force3 blue in that competition, after a season in which Melville struggled in the Premier League. In the end", reflects Kim, "I was left with three options, a result of Melville, due to a combination of factors, opting out of the 2004 competition.
"I could stay with Melville in Waikato football, switch to Premier League side Claudelands, or, as I chose, challenge myself and look to raise the level of my game by playing for one of the Auckland clubs".
A couple of them made overtures to the talented teenager, and Kim has no regrets whatsoever - not even travel time-wise - about her decision to link up with Eastern Suburbs. It has led to the classy defender making five Auckland appearances to date, although a nagging sesamoid injury has left her with a painful reminder of an arduous season.
You can count on Kimberley Lewis being primed and dangerous when the time comes to commence her Turkish conquest in August, funding pending.