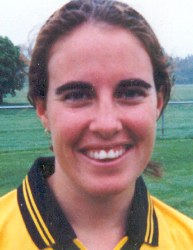 Helen Exler's soccer career has been a highly rewarding one, make no mistake.
Wherever she has played, more often than not she has enjoyed the sweet taste of success. She enjoyed plenty with Avondale College, where she collected three National Secondary Schools championships and earned NZ Secondary Schools representative honours, before playing for Avondale United in the late 1980s.
During the early 1990s, she played for Otago University, where she was studying to become a teacher. While down south, she helped the Otago province to victory in the South Island Tournaments of 1992, 1993 and 1994, and to Section Two success during the 1992 National Tournament, which the province hosted.
She also gained selection for NZ Universities during this period, and for her country at U-20 level in 1994, as part of the squad which defeated Australia that year.
While this was one of the highlights of her career, arguably the finest hours which this learned individual has enjoyed football-wise have come while wearing the colours of Eden and Three Kings United.
She joined the team in 1989, at the end of which a very young Eden combination finished runners-up in the Second Division competition, and reached the quarter-finals of the Knockout. The following season, they were runners-up again, this time in the Premier League and the Knockout Shield.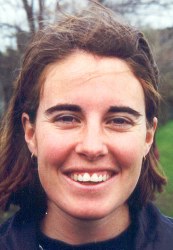 During that season, Helen picked up the nickname "Helga", as a result of a trip overseas with the Auckland U-18 squad. In Sweden, they competed in the Gothia Cup, then headed to Denmark, from where they returned home with the Dana Cup.
Helen left for Otago at the end of the 1991 campaign, and did so after a highly satisfying season. For Eden won the "double" that year, winning seventeen of their eighteen games, the other being drawn.
Such was their impressive form that Helen was able to neglect her defensive duties on occasions, and join the attack. She was rewarded on five occasions, including a hat-trick in the Knockout Shield semi-final against Ellerslie.
Her form secured her a place in the Auckland squad for the 1991 National Tournament, and she made her "A Team:" debut against Northland, after playing for Auckland B in the Fiji Visitors Bureau Tournament - she scored against Bay of Plenty during this event.
Upon her return from Otago in 1995, "Helga" took some time to rediscover the form which she was showing during her first spell at Eden. Indeed, it wasn't until later in the 1996 campaign that we saw the Helen Exler of old. And while that season's Knockout Final was the closest she came to adding to her winners' medals collection - Eden finished runners-up, more silverware was not too far away.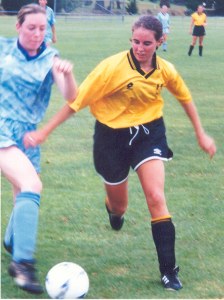 1997 saw Three Kings United finish as runners-up in the Premier League, but on September 27 that year, they defeated Petone 7-5 in a remarkable SWANZ Knockout Cup Final, with Helen among the goalscorers at Park Island in Napier. A week later, they clinched the Knockout Shield and Champion of Champions trophy with a 2-1 defeat of arch-rivals, and league champions, Lynn-Avon United.
Helen's form earned her a place in the Auckland B side for the 1997 National Tournament, and she scored against Northland as the "B Team" swept aside all-comers in Section Two.
With so many "A Team" regulars on duty for the SWANZ in 1998, she was a shoe-in for Auckland duty that year, and helped the province retain their national title. She has retained her place in the "A Team" ever since, and success has gone hand-in-hand, along with her first goal for the side, against Otago-Southland in 2000.
Meantime, honours at club level continued to roll in. 1998, of course, was Three Kings' "Grand Slam" season, while they retained their league title in 1999, and completed the SWANZ Knockout Cup "three-peat" too. But they surrendered the Knockout Shield to Lynn-Avon that season, as they did the league and national knockout titles the following year.
There was some compensation, however, Helen captaining Three Kings to victory in the 2000 Knockout Shield final, the club's fifth consecutive clash at this stage of the competition, and the first Knockout Shield final to be decided on penalties.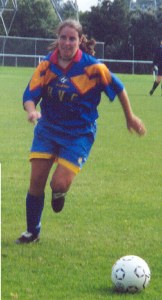 Having beaten them, Helen joined Lynn-Avon for the 2001 season, and helped them clinch the Northern Premier Women's League crown once again. But her hopes of an unprecedented fourth winners' medal in the SWANZ Knockout Cup were dashed by former Three Kings team-mate Maia Jackman, who, herself, lay claim to that crown while helping her Ellerslie cohorts to victory over Lynn-Avon in the competition's first all-Auckland final.
A left-footed defender in the "Steady Eddie" mould, Helen Exler is one of the real personalities in the Three Kings team, and has been a defensive rock during their successes in both the early and late 1990s - their five-season barren spell in between times coincided with Helen's three-year leave-of-absence for study purposes, and the subsequent lengthy period of time it took her to rediscover her best form.
As well, she's someone with whom you are guaranteed a most interesting conversation, regardless of the subject. A true character in every sense of the word, Helen Exler is someone every team needs - a sensible and highly reliable footballer with a real penchant for picking up winners' medals!!