New Zealand has had a fair few double internationals - national representatives in two sports - over the years, and women's soccer is no exception.
The first captain of the team now known as the Football Ferns, Marilyn Marshall, also excelled on the softball diamond, as did legendary New Zealand goalkeeper Leslie King. Rebecca Rolls and Melissa Ruscoe are other noteworthy names, as Kiwi cricket and rugby fans will undoubtedly confirm.
These are but four of this elite group of Kiwi women's footballers - there are a number of others. Including Brooke Rangi, who made her three appearances for New Zealand in the 2004 Australia Cup tournament in Brisbane.
Those caps, earned against Australia - she made her debut as a half-time substitute, China and North Korea, were among the highlights of a career which has fallen on hard times in recent months, with work commitments confining the Kawerau native to the Eastern Bay of Plenty region, an area which is far from being a women's soccer hotbed in this country.
"The Bay of Plenty really doesn't have a good women's team at all, or any women's club team", she confirmed when interviewed in January 2007. "Hence I'm making sure I'm practicing with men's teams, and working hard because I know I'm going to have to get into tip-top shape by myself.
"I'm so far away from anyone else or from Auckland, and I can't travel three hours there and back, with two hours' training in between times, when I'm working twelve hour shifts as a Chip Collecting Technician at Tasman Pulp & Paper".
It's certainly not an easy situation for the shy twenty-six-year-old, who first appeared for New Zealand as an U-17 international at the 1999 Australian State Youth Championships, during which she scored four goals in five games.
"I started playing when I was six, with my brother Derek in Kawerau. Until this year - I've switched to Whakatane Town - I've played for Kawerau Town throughout my career", says the Kawerau College old girl, who still involves herself with the school's women's soccer team.
She hasn't spent her entire life in Kawerau, however. Brooke takes up the story from the time her school days concluded.
"Doug Moore was New Zealand's coach at the time, and he'd been at Lock Haven University, in Pennsylvania, prior to taking up the national role. He recruited me for LHU, and once I decided I was going to go there, I checked out their Track & Field programme -I was into athletics as well as soccer.
"I do multi-sport events like heptathlons and pentathlons, so combining my athletics and soccer talent enabled me to get a half-scholarship in both programmes at Lock Haven".
Talent is the word, indeed. For Miss Rangi doesn't do herself justice when reflecting on her athletic abilities - it's through these that she enjoys double international status.
The 2001 Arafura Games are where she was next seen proudly sporting the silver fern, appearing on the podium three times - as a bronze medalist in both the long jump and 100m hurdles disciplines, and as a silver medalist in the high jump, where she finished behind her super-soaring Kiwi compatriot, the extremely talented Sarah Cowley.
Sadly for Brooke, soccer put an end to her athletics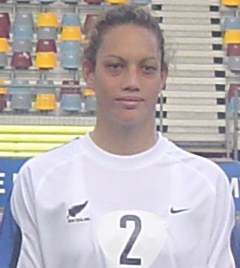 career within twelve months, and it wasn't because of the all-too-common situation seen nowadays of two codes overlapping. "I got a stress fracture through soccer in my junior year which pretty much stopped my track work, because of all the movement which that entails".
So she poured all her energies into her footballing career, and a Lock Haven legend was born.
Brooke scored 36 goals and was responsible for 23 assists in Lock Haven's colours between 2001 and 2004, with twelve goals and assists in 2002 alone. Those figures earned her selection in the NCAA Division Two All-American Second Team that year, while she made the All North-East region team in 2002 and 2003, and in those years plus 2004, the All Pennsylvania State Athletic Conference first team selection.
Little wonder she regards playing for LHU as the principle highlight of her career, one which saw her representing her country again in 2005. "Going to Turkey with the NZ Universities squad for the World University Games is another highlight", she smiles, "and especially scoring a thirty-yard free-kick winner as we beat the host nation 1-0 on the way to finishing ninth of twelve teams in Izmir. That was a great experience".
The timing of the Games meant Brooke couldn't add to her Lock Haven records in what was to be her final year at the university. "I changed my major three times at LHU, so stayed on an extra semester.
"I started out as a PE teacher, 'cause I thought that's what I'd really like to do. Once we went into the primary schools, however, I found I couldn't be around kids - it's the sort of thing you learn as part of the process of seeing if you'll like that particular course.
"From there I went in to health science, which I liked, but it wasn't something which I could see myself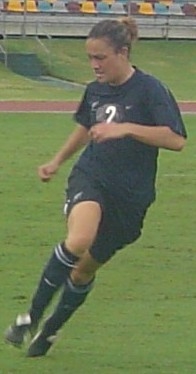 doing. A couple of my friends from the soccer team were doing Recreational Management - event planning, and things like that, which I thought was something I'd like to do.
"Most of my classes' credits were switched over, then I picked up and completed the course, and graduated from LHU in May 2006. I then did my ten-week internship in California before coming back to New Zealand at the end of September that year".
Brooke had only been "back home a couple of days when I was offered a job working as a contractor to Tasman Pulp and Paper". Her Chip Collecting Technician work entails "making sure that all the wood is good enough to export overseas. Most people think I test potato chips, but I'm definitely the wood kind!
"It has nothing to do with my major, however, but it's a job and I'll take it while I can - it's better than being on the dole!"
Getting a job in the event planning environment is a priority, however, although Brooke admits she may have to leave behind the land she loves to realise her potential off the park.
"The demand for event planning isn't that high at present in New Zealand, because people here aren't as lazy as they are in the USA! They don't go to someone else to organise something for them just yet, but I'm sure we'll get there soon".
Meantime, she's keen to continue making the most of her footballing skills, and would dearly love to add to her tally of caps under Football Ferns coach, John Herdman. "The training environment here is good.
"Everybody's in the right state of mind to get things done and work really hard. As long as everybody's on the same page - there's nothing worse when going into a camp where half the people want to be there and half don't".
One of the biggest influences in Brooke's career won't stand for that behaviour at any time, as the lady herself readily testifies. "Doug Moore has been a key person for me. He has good vision, knows exactly what you're capable of and isn't afraid to tell you when you're slacking off or stepping out of line, and how to get back in line.
"A lot of my team-mates at Lock Haven have been quite influential, too. After all, you end up living with them and playing soccer with them, so everything that you do is pretty much eat, sleep and breathe soccer - it's all about working towards one goal. It's a good environment, even though you're only in it for one semester at a time.
"It wasn't just in the soccer environment where I enjoyed their encouragement, either. Once it was time for track, they'd be there to support me. Track is such an individualised sport that you need someone to talk to in order to help you improve, whereas with soccer, you can all sit around the table and talk about how the team can progressively get better".
Now she's home, the daughter of Ike and Christine Rangi is greatly appreciative of her family's influence as she looks to kick-start her soccer career and fulfil her potential in the fledgling industry of event planning.
"My family make sure that I'm there, my mind's right, I've got good goals and I achieve them", says New Zealand double international Brooke Rangi, whose standing in Lock Haven University folklore is certainly testament to that.