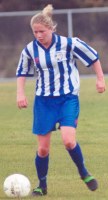 One of the brightest young talents on the Auckland women's soccer scene bid adieu to the game here in mid-August, 2001, as she headed to the USA's Fairfield University on a four-year scholarship.
Vicki Ormond is beating the same path as a fair number of women's soccer players - past and present Auckland reps Patrice Bourke, Abby Allan, Alisse Robertson and Rebecca Sowden among them - as the opportunity to combine study with playing soccer in the world's premier women's soccer-playing nation proves irresistible.
The four-times-capped SWANZ international is excited at the chance which has opened up for her.
"In terms of my studies, I've yet to decide what I'll major in - I'll take things as they come in that regard - but in my first year, I'll be studying sociology, maths, English and Italian", she said.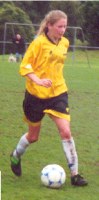 "Soccer-wise, I hope to experience something a bit different from the local scene. I've learnt a heck of a lot here, but this offers me a new challenge, which is something I relish".
Auckland women's soccer's Young Player of the Year in 2000 started off this season for the Ellerslie club by storming to the top of the goalscoring charts, her thirteen goal haul including a memorable hat-trick against Lynn-Avon United.
But a neck injury, sustained in bizarre circumstances in a training exercise, brought the will-o-the-wisp striker's season to a somewhat premature conclusion.
"It's been a real up-and-down year for me as a result of my injury", the player with three goals in six appearances for the Auckland women's team said.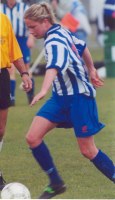 "It's certainly been a stark contrast to last season, when I had a real ball, making my debuts for both Auckland and New Zealand, and being part of the Auckland Invitation Women's Development Squad's tour of Argentina, Paraguay and Uruguay. That was an awesome trip".
Ormond's first game following her recovery, an Uncle Toby's Women's Knockout Cup match for Ellerslie against Eastern Suburbs on August 8, proved to be the Auckland swansong for the bubbly daughter of former All White Duncan Ormond.
Fittingly, the eighteen-year-old signed off with a flourish, scoring one and setting up the game's other goal in a 2-0 win.
NB Vicki returned home from Fairfield in 2002, and is pictured below left in action for Eastern Suburbs upon
her return, as well as for Auckland and Ellerslie. Sadly, she had to hang up her boots due to injury.