Leading a full-on lifestyle is par for the course where Hannah Rishworth is concerned.
Such is her busy schedule at present, as she studies for an Arts and Science degree in between football matches, training sessions and other commitments that pinning her down for an interview was an achievement in itself!
"I'm quite a go-getter, I must admit", the modest nineteen-year-old says. "I really enjoy having lots of different things going on. I want to do my best at whatever I turn my hand to, and think I have quite high standards which certainly help drive me in this regard".
That drive and those high standards were certainly necessary in 2004, when Epsom Girls Grammar School afforded Hannah a very special honour. "Seventh Form was a wicked year for me, and being really involved as Head Girl made my final year at school.
"It was so full on, and quite busy, but pretty cool all the same. There was plenty of public speaking, people and events to organise … as well as soccer up to eight times a week and trying to keep on top of studies.
"There wasn't really time to dwell on anything - I just did it!"
Doing the business on the football field is something at which this versatile nineteen-year-old is rather adept, too. Be she in defence or midfield, Hannah's leadership talents are often to the fore, along with her calm self-assuredness and sheer consistency - sub-par performances have been rarities in Rishworth's fledgling football career to date.
That reliability factor has helped Hannah become one of the lynchpins of the New Zealand Under-20 squad, in its quest to qualify this month for the 2006 Under-20 Women's World Cup Finals in Russia.
"My personal ambition for the qualifiers in Samoa is to play my best, which will hopefully get me into the starting line-up for each match. As a team, my target is to make sure we're not complacent, and play to our potential - that will be good enough to help us qualify for Russia.
"The very first time I played for New Zealand was at Secondary Schoolgirls level in January 2004. The buzz of playing an international game left me saying to myself `I want to do this again'", says a young lady who, before the end of that year, captained her country in the three-test schoolgirls series against Australia.
Little did she imagine she would enjoy that honour when she started playing the game in 1993. "I tagged along with some of my best friends whose older brothers played the game. I signed up with Eden, and played in the midgets for the Eden Alleycats, staying with the club when it became Three Kings United in 1997.
"I've had some really cool coaches over the years, including Andrew David, who let me play football alongside the boys till I was fourteen. By that time, I had already played for Auckland at Under-11 level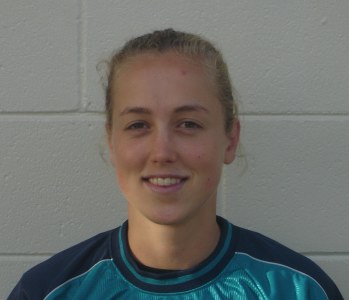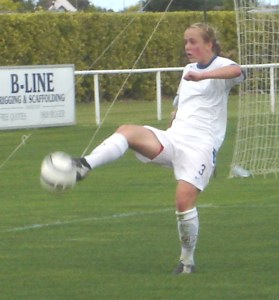 Hannah Rishworth's Favourites
| | |
| --- | --- |
| Club | Chelsea |
| Food | Avocado |
| Movie | Notting Hill |
| Actor | Hugh Grant |
| Actress | Julia Roberts |
| Author | Janet Frame |
| Music | Tahuna Breaks |
| Other sports | Surfing |
| Other sports star | Mils Muliaina |
| School subject | Art History |
| Country visited | Canada |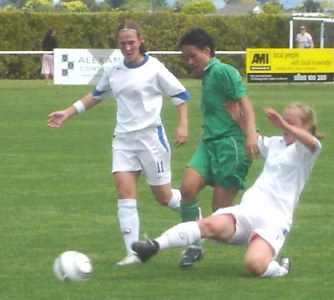 with Kirsty Yallop, at Under-13 level and - somehow - as a thirteen-year-old in the Auckland Under-17s squad in 2000".
That wasn't a bad little side in which Hannah found herself. In winning the Northern Region Under-17 Tournament, a team sporting future New Zealand internationals in Rachel Doody, Priscilla Duncan, Amber Hearn, Hayley Moorwood and Melissa Ray amassed sixty-three goals in five games, one of which was scored by the squad's youngest member.
Selection in the Under-14 and Under-16 New Zealand Academy squads followed for Hannah, along with her full Auckland debut - she scored once in five appearances for the "A Team" in 2004.
That year is full of special memories for Hannah, not the least of which are her deeds on the pitch for EGGS. "We made the National Tournament finals in all five years I was at Epsom, winning it in 2000, 2001 and 2004.
"Winning the Nationals and the Auckland championship double was a rare feat, but it's one we achieved in 2004, beating Tauranga 3-2 in the Christchurch final. Just as exciting as scoring the first goal was the fact that for half the team, this was our last match for EGGS after having played together for a number of years. It was an awesome high on which to bow out!"
Priscilla Duncan and Tess Murphy are two of the players from her days at Epsom who Hannah acknowledges as key influences on her career, along with Jo Barnett. "She's one of those friends who got me involved in soccer thirteen years ago", says Rishworth of her former Three Kings team-mate and current NZ Universities international.
Mention of university brings us to the subject of a scholarship to play soccer in the USA. Most would jump at the opportunity, but this worldly-wise teenager has her own ideas. "I'm not that keen to take up such an offer at the moment, to be honest.
"I have a scholarship to study at Auckland University which I want to see through. Post-graduate study overseas is a possibility, while I'd like to explore the idea of going on the student exchange programme, which opens up the chance to experience and benefit from soccer in a country like Canada, where I lived for a while a few years ago.
"I got to play for the Eastern Ontario Under-14 rep team", Hannah declares, "and we played in a tournament in Philadelphia. One of the teams we played was awesome - they helped me to really respect the women's soccer programme in the USA".
Away from football, there are lots of things Hannah Rishworth wants to achieve, though nothing specific as yet. But with all the exciting opportunities opening up for women's soccer in New Zealand, it's no surprise to discover this go-getter is setting her sights as high as possible.
"With all the international experiences and quality coaching my team-mates and I are getting now, I hope it will help us push on and realise that next level. For me, to make the senior team would be the ultimate".