One of the familiar faces around the Auckland women's soccer scene over the last fifteen years bid adieu recently, as Margot Bowker headed abroad to pursue business interests which have opened up for her in Europe.
The twenty-four-times-capped Auckland representative has played for a wide variety of teams over the course of her career, which began when watching her older brother, Guy, playing one day, and his team found themselves short of players.
That situation has often been the catalyst to the start of many a career in the game, but very, very few will have encountered the extraordinary catalogue of twists and turns which Margot has endured along the way, as she explains.
"I played junior soccer at Ellerslie from 1987 to 1989, and intended doing so again in 1990 when an incident happened at primary school that summer which changed my life forever.
"Some of my friends were playing cricket with a real ball when they weren't supposed to be. I went over towards them and was in the process of telling some of them that they shouldn't be doing so when I was accidentally hit in the head by the cricket ball from four metres away.
"As well as a fractured skull, I had an extradural brain haemorrhage on the left side of my head, and for a time, lost the use of the right side of my body. It could have been a lot worse, however - I was quite literally dead on the operating table, but they were able to revive me".
The road back was long and painful, and continues to be so. "My right side is a lot weaker than my left, as borne out by any reflex tests I've taken - those on my right are a lot slower. As well, I get wicked headaches to this day - it's another of the after-effects of this episode in my life".
Wellington-born Margot - she grew up in Silverstream before the family moved to Auckland in her seventh year - never played football again until 1994. "Mum wasn't too happy with my decision to play soccer again, but I wanted to play for my school, Diocesan School for Girls.
"So I did, and had a ball!! I was a striker, and got into a habit of asking the opposing defenders if they were going to mark me. When they said `No', I replied, `Oh good!!`, and proceeded to run riot!! The most goals I scored in a game was fourteen, and a week later I scored thirteen!"
This, remember, in her first year of playing soccer since 1989! But wait, there's more!!
"In my first year back, I was picked for the Auckland Secondary Schoolgirls team. We played in a tournament at Eastern Suburbs half-way through the season, and I was named Player of the Tournament. At the tail end of that season, I played for Eden in the Premier Women's League, and also for the Auckland Under-17s".
In the campaigns which followed, Margot played for a string of Premier League clubs - Ellerslie (1995), Fencibles United (1996), Three Kings United (1997), University (1998) - until she settled in at Ellerslie once more, this time for a five-year stint, before spending the last three years of her career, from 2004, at Lynn-Avon United.
Her performances earned her recognition in numerous representative teams - Auckland U-17s and U-19s, Northern Region selections, the "A Team" in 1998, 2002, 2003 and 2005, the New Zealand Under-17s, and New Zealand senior squad training camps.
"I have fond memories of those representative experiences. It was fantastic being involved with the New Zealand squad. Those camps were good fun, and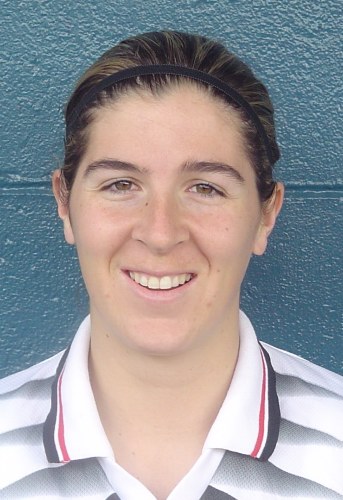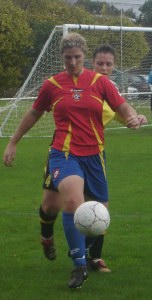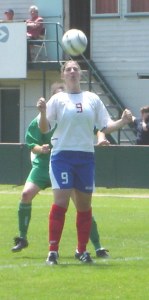 Margot Bowker's Favourites
Club

AC Milan

Player

Andrei Shevchenko,

Thierry Henry

TV Shows

ER, Desperate Housewives

Movie

Empire of the Sun, war movies, romantic comedies

Actor

Brad Pitt, Mark Ruffalo

Actress

Cameron Diaz

Author

Bryce Courtney

Music

Beatles, Coldplay

Other sports

Surfing

Other sports star

Kelly Slater

School subject

PE, Maths, History, & at University, Italian

Country visited

Italy

Way to Relax

Sleeping, Surfing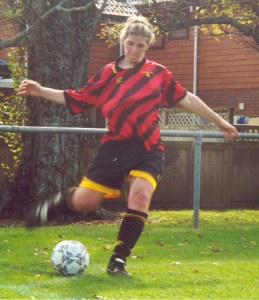 involved the best players in the country at the time.
"And the 1998 Auckland team was special, too. No-one thought, with all the leading Auckland players being involved with the national squad, that we'd come through to take out that year's National Tournament. That was an awesome achievement!"
It's also one of the winners' medals which have adorned Margot's trophy cabinet over the years. Others include three National Women's League crowns with Auckland in the three seasons she was in the "A Team", the 1997 Auckland Women's Knockout Shield, SWANZ Cup triumphs in 1997, 2001, 2004 and 2005, and Northern Premier Women's League honours in those last two campaigns.
Auckland's Sportswoman of the Year in 2000 - "I played in goal for eight weeks for Ellerslie that year, and kept a clean sheet when given the gloves in my penultimate game for Lynn-Avon this year. In both cases, it was done for the team's sake" - had to deal with injuries galore all the while, however.
"I've had a horrendous number of injuries over the years, too numerous to mention. For instance, five games into my first season with Lynn-Avon, I suffered a badly broken ankle. And while trialling for Auckland in 1996, I tore my ankle ligaments …
"The bulk of my injuries have stemmed from muscle imbalances arising from my fractured skull episode. It's that which has led to my being predominantly left-footed nowadays.
"But getting as far as I have despite the injuries and setbacks I've encountered, particularly those arising from my head injury - I'm proud of what I've been able to achieve in the circumstances".
A new life now beckons for the twenty-seven-year-old Aucklander - "definitely an Aucklander!!" - however, one bereft of the family, friends, familiar faces from football and the comforts of home which Margot freely admits she will miss.
"For the last few years, I've been employed by a worldwide operation based in New Zealand called Glidepath, most recently as their Marketing and Communications Manager, a role which entails a great deal of travel, something I don't mind at all!
"They're a fantastic company to work for, and there is a definite possibility I'll return to work for them in the future. Right now, however, I'm looking for something a little different, and the contacts I've made through my job have opened up this opportunity for me to further my career by working in Europe.
"Where exactly in Europe I don't yet know, although I've got a final interview for a job in Geneva, Switzerland, coming up, so I could end up playing there, too. I'm still keen to play, of course, and see how the game is played in other areas of the world".
It's certainly a world away from the life-threatening challenges a then ten-year-old faced all those years ago, challenges which this survivor now looks back on with a smile. To some extent, what has come since has been a bonus, and those bonuses haven't been confined to Auckland's football fields.
Margot Bowker has also attained a Bachelor of Arts degree in Italian, plus a Bachelor of Commerce degree in Marketing, earning a Masters degree with first class honours - she's not just a pretty face, you know!
With plans to complete a Master of Business Administration degree in the USA while abroad, she also has her sights set on Corporate Management qualifications once back on home turf.
Meantime, there are three things Margot is looking forward to realising while overseas … "Keep travelling, enjoy life, and best of all, not get injured!!"