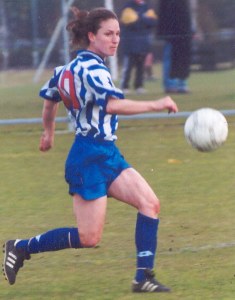 Had Erin Martinís 2000 season not been dogged by niggling injuries, Three Kings United would have been a far stronger combination throughout the first season of the 21st century.
The former US U-20 international came to the club with an outstanding pedigree in the game, having played professionally in Japan and Sweden, as well as having earned a truck-load of honours at various levels in her homeland, where she was also a member of the US Olympic Development Programme.
She certainly looked the part early in the 2000 campaign, but picked up a hip injury just two games into the campaign which took her a month to recover from.
Two games into the resumed campaign - the SWANZ participation in the Pacific Cup in May-June prompted the break in proceedings, Erin was unlucky to pick up another injury, this time to her knee, which ruled her out for a further six games.
Once recovered from that setback, however, we began to see Erin Martin hit her straps, to the point where this fiercely determined competitor scored ten goals in four of the five games which remained in Unitedís season.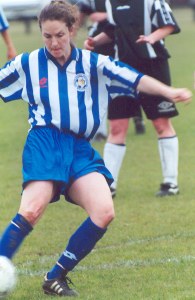 One of them was a late equaliser in the Auckland Premier Womenís Knockout Shield final against arch-rivals Lynn-Avon United, a goal which forced extra-time and, ultimately, the first-ever penalty shoot-out in the final of the twenty-eight season-strong competition.
Three Kings lifted the trophy, meaning Erinís season at club level would not be a barren one. Her efforts were enough to earn her selection in Aucklandís ďA TeamĒ, who were bidding to win the National Womenís Soccer Tournament for a fourth straight season, and it was in the blue-and-white of the countryís premier womenís soccer-playing province where she produced some outstanding form, so much so that she finished runner-up - just - to Three Kings and Auckland team-mate Simone Ferrara as the Player of the Tournament.
By way of compensation, Erin picked up the Leading Goalscorer award, netting twelve times in the ďA TeamĒís six matches en route to winning the title once again.
But like WUSA franchise Philadelphia Charge, who snapped Erin up for the 2001 season, and for whom she is pictured in aerial action (against China's Ouying Zhang) below, Three Kings will always be left to wonder how much better their season could have been had this technically outstanding 27-year-old - born February 21, 1975 - remained injury-free.