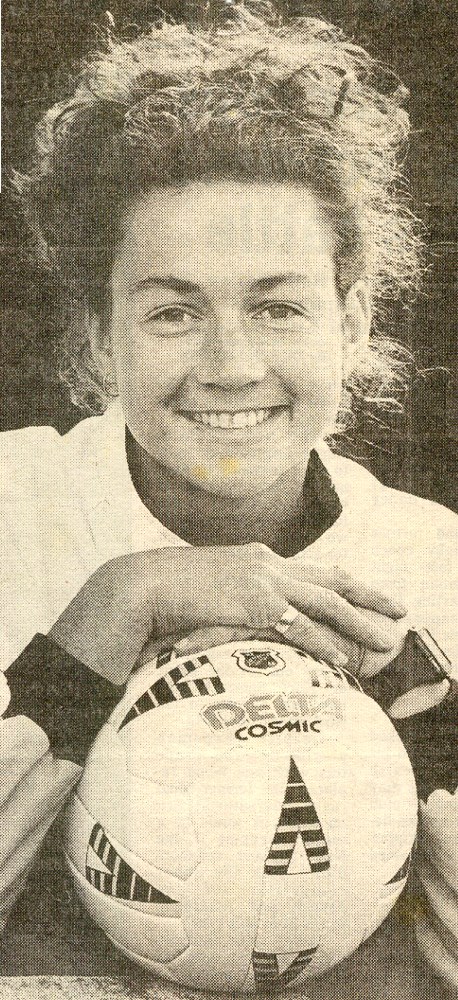 When discussing his best signing one day, former Liverpool mentor Bob Paisley had this to say of Kenny Dalglish. "When Kenny shines, the whole game is illuminated". I believe this comment is equally applicable to two of New Zealand women's soccer's finest talents, Michele Cox and Monique Van de Elzen.
If Michele's name is the first one down on the team-sheet, then Monique's should be penned in before the ink used in the first entry has had a chance to dry!!
In separate teams, both Michele and Monique made watching the game a highly pleasurable experience. When on the same side, however ... put quite simply, God help the opposition!!
I have no hesitation in labelling the combination of Cox and Van de Elzen as the best I've seen in New Zealand soccer.
Women's soccer's "dynamic duo", performing anywhere near peak form, were pure dynamite - a joy, and a privilege, to behold in action, and, doubtless, the source of many a nightmare for opponents.
It's not just opponents whom they beset with problems, either. Doing justice to their wizardry for Eden in 1991, by way of the written word in Soccer Express, provided me with quite a challenge on Sunday evenings.
Monique, like Michele, exuded class. Blessed with superb balance, breathtaking close control and a magic left foot, "Moni" made the game look easy. She beat players nonchalantly, and her constant awareness of her team-mates' whereabouts offered her so many options when in possession. In short, a coach's dream player.
In terms of crossing a ball, she remains peerless in women's soccer. Her delivery was invariably pinpoint and expertly executed - near post or far, the result was almost always the same, i.e. a team-mate was the recipient of a virtual invitation to score. It happened as naturally as grass grows.
On reflection, perhaps that's why Monique stood out on a football field to the extent that she did - her natural ability.
It's often said of George Best that he was born with a gift. The statement also applies to Monique, only, in her case, when I think of how disillusioned she became with the game after 1991, I hoped she wouldn't retrace Best's footsteps, in terms of wasting that gift.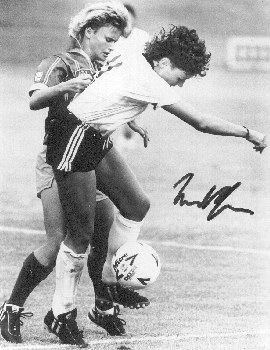 She made a comeback in 1998 with Three Kings, and, needless to say, performed as if she'd never been away from a football pitch for six seasons, finding the net in her first game back following such a lengthy absence from the playing arena.
Sadly, it was to be an all-too-brief return for this outstanding footballer, but the three games she did play for Three Kings early that season allowed those who had never seen her in action the chance to watch and admire a master craftswoman at work.
For those of us who had seen "Moni" at her majestic best in 1991 and prior, it served to remind us of just how talented a footballer she was - as if we could ever forget the awe-inspiring sight of the figure in that number eight jersey gliding past defenders with nonchalant ease!!
She was only 24, and still nowhere near her peak, when she hung up her boots after the 1991 Women's World Cup Finals. By then, she'd played twenty times for her country, scoring eleven goals, including a hat-trick on her debut against Hawaii in December 1987, and her best-ever goalscoring haul in one match, when belting five past Papua New Guinea in a 1991 Women's World Cup qualifier.
Nine years earlier, she was selected for the "A Team" at the tender age of fourteen, and went on to carve out a fine record in the blue-and-white of Auckland off and on over the next nine years.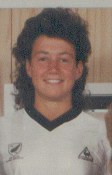 On the way, she won both the Auckland and New Zealand Player of the Year awards in 1987, the year in which she was also named Player of the National Tournament, and a year after being named captain of the NZ Universities side, while studying at Otago University.
In the six seasons which passed between 1991 and when she kicked a ball in anger once more, she completed her physiotherapy studies and began practising in this field, returning to it after her final fling with football, in 1998.
With a personality as effervescent as her footballing prowess, Monique Van de Elzen is a lady I'll always hold in extremely high esteem. It was a real pleasure watching her in action, even though the opportunities to do so were, regrettably, all too few.
Avec beaucoup l'amour et remerciements pour les memoires, Monique, la magnifique!