As the vast majority of the nation's footballing fraternity prepares for the start of another winter campaign, the prospect of encountering a season blighted by injury will likely be the furthest thing on the minds of the masses.
Yet for North Harbour women's soccer star Natalie Donze, such worst nightmare scenarios have become stark reality for her in each of the past two seasons.
Not one but two serious injuries have beset the Forrest Hill resident in the last two years, blows which someone of lesser resolve would likely have found soul-destroying, and probably prompted thoughts of hanging up the boots.
This Burlington, Vermont-born twenty-year-old is made of sterner stuff, however. Indeed, she is determined to overcome these setbacks and continue enjoying her football for as long as she possibly can.
"When I was ten, I fell off a horse and broke my arm, while five years later I got concussed when playing cricket. Then in January 2003, I broke my wrist while snowboarding. Throw in the odd ankle sprain, and it`s fair to say I've had my fair share of injuries!"
These are relatively minor, however, compared with the incident which dealt Donze a devastating blow at the start of the 2004 season. "It was the very first game, and I tore my anterior cruciate ligament, from which it took over a year to recover.
"Then, having eased my way back into things during 2005, I was playing for North Harbour against Capital in the National Women's League match in Wellington when I suffered a dislocated ankle and broken fibula.
"At least it happened nearer the end of the season this time, but it's meant I've missed out on my water-skiing and wakeboarding … it's been a bummer of a summer!"
The after-effects of her latest injury linger still for Natalie. She is looking forward to having the pins removed from her ankle on March 1, having had the operation postponed a fortnight due to "the hospital having to move people around because someone more important came along!"
More important than a footballer? Perish the thought! This one in particular can't wait to kick a ball in anger once more, something she has been doing since she was five.
"My older brother, Matt, was playing, and dad, Robb, was coaching, when I first started playing. Dad has been a big influence on my career, particularly in the beginning, when he'd encourage me to play, and come along to watch, which he still does today.
"We stayed in Vermont till I was eight, which was when we moved to the land of my Kiwi-born mum, Christine. Both countries are similar, but I prefer here at the moment, 'cause this is where most of my family and friends are. But among other things, there's great snowboarding in the States, so I guess a mix of both suits me perfectly".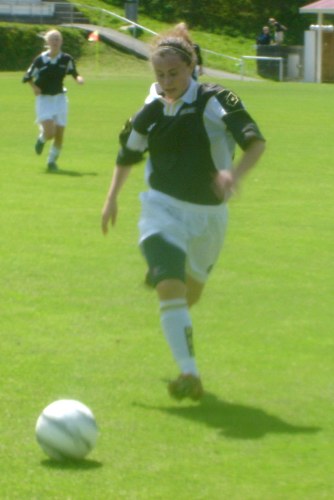 Natalie Donze's Top Ten
| | |
| --- | --- |
| Food | Italian or Mediterranean |
| TV Show | Desperate Housewives, Scrubs |
| Music | All kinds, rock/alternative preferred |
| Actor | Johnny Depp |
| Actress | Natalie Portman |
| Author | Pauline Simons |
| Footballer | Ronaldinho |
| Football Team | Liverpool |
| Other Sports | Water-skiing, Surfing, Hockey, Cricket, Snowboarding |
| School Subject | Geography, Psychology |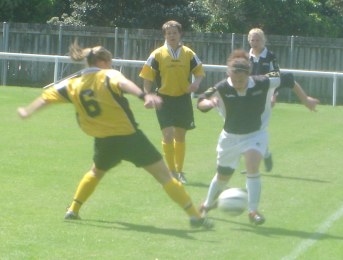 The Donze family quickly settled in Forrest Hill, and Natalie soon found herself playing for Forrest Hill-Milford United down at Becroft Park, where the coaching skills of Warren Rodd helped the young midfielder improve her footballing ability.
Two years later, in 1997, she switched to the Rangitoto club, but when they merged with Albany United at the end of the season, she returned to `The Hill', where she was a member of their Under-15 girls squad.
"In 2000, I was a member of the 16th Grade National Academy squad, which remains one of the highlights of my career. Another was my first year in the Northern Premier Women's League with Takapuna.
"I learnt a lot in 2002, so much so that I earned selection for the North Harbour squad in that season's National Women's League. I enjoy that competition, when I've had the opportunities to play in it, particularly the travelling aspect.
"A year later, I was fortunate enough to be offered a scholarship by Northwest Missouri State University, after one of their scouts had seen me in action. I was in my last year at Carmel College, however, and other circumstances led me to turn it down".
Little did Natalie know that the injury from hell was on the horizon. The recovery process was slow and painful, but part-way through 2005 she was back, this time sporting the colours of Glenfield Rovers. "They're a great bunch, really friendly. Peter Buchanan is very laid-back as a coach, but he sure knows what he's talking about".
Natalie's goalscoring prowess from midfield - given her limited appearances in four seasons, a tally of twelve Premier League goals for Takapuna and Glenfield is a very sound return - saw her donning the all-black kit for National Women's League duty again, but then came that ill-fated trip to Wellington …
"I'm stubborn", says Natalie, "and want to keep playing on my terms, not be forced out by injury. So I'm intent on enjoying my football, and playing for as long as my body will let me - whatever else comes along is a bonus".
Meantime, besides getting back into the footballing groove, she'll continue her studies, and as has been the case with the extent of her numerous injuries over the years, there are no half measures when it comes to Nat's thirst for knowledge.
"I'm doing a Science degree, double-majoring in Psychology and Sports and Exercise Science at Auckland University. This year is my third, and it'll be a very heavy one work-wise. But it has to be done if I'm to realise my long-term ambition - be a sports psychologist for a US university team".
Before then, the casting aside of crutches, moon-boots and other such signs of long-term injuries are high on the agenda. "Let's hope this is the last time I'm sidelined for a long time!" laughs Natalie, as she looks forward - as do we all - to what she hopes will be an injury-free season.