Pinning down a regular place in the Cal State Fullerton Titans starting line-up is proving to be hard work for New Zealand women's soccer representative Emma Humphries, but she's not letting it get her down.
Indeed, it's hard to find anything which dents the spirits of the nineteen-year-old Wellington native. That shouldn't surprise, when you discover her nickname, one she lives up to without too much prompting.
"The latest nickname I've been given is `Elmo'", says the sophomore student, "but prior to that, everybody has called me `Giggles'", and with that, she duly starts to. "They say I laugh a lot but I don't think I do …". Cue yet more giggles from `Giggles'!
There wasn't a single point in this interview in which Emma failed to live up to her moniker, it must be said, even when we back-tracked to how she has got to where she is now.
"A lot of my friends were playing, along with my older brother, Jamie, who I went along to watch every weekend. One of our neighbours was coaching at Waterside Karori, so I went along, and never stopped!
"It goes without saying my family has been a big influence on my career", she continues. "I don't know what I'd do without them, to be honest, and not a week goes by without my giving them a call from Fullerton".
Ah yes, Fullerton. Emma's home away from home for over a year now. "Studies-wise, I'm doing all right - it's enjoyable. My grade average is 3.9 out of 4.0, so I'm happy with that.
"I'm majoring in kinesiology, which is the scientific study of movement. It's quite ironic that I'm studying it, given the array of injuries I endured in my first season here.
"I picked up quite a few - where do I start? I only played two weeks of the 2004 spring season, and had eight weeks out due to stress fractures - I only began running again two weeks before our internationals in Japan in May".
Emma didn't take the field during the full international against the host nation, and she was understandably disappointed at not being capped. But she was a member of the side which played Japan Universities two days later.
"It was a really well-run tour, which I really enjoyed. It was really professional, although it did seem weird to have just one day of training together before the game.
"I was actually supposed to be in the squad for the two USA matches last October. But due to the late notice of the tour, I was unable to get time off from Fullerton due to the timing of the matches, at the start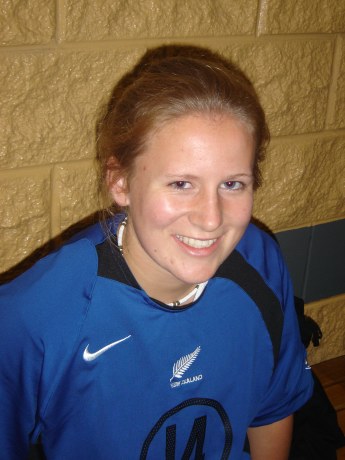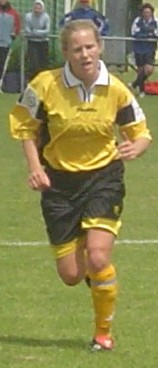 of our Conference series. Which, once again, left me disappointed - playing for New Zealand means everything to me".
The fan of Roberto Carlos has high hopes of adding to her opportunities to wear the silver fern, something she did in August as part of the New Zealand Universities squad which contested the University Games in Izmir, Turkey, during the course of which the bubbly midfielder-cum-striker scored twice in a 4-1 win over South Africa.
"I'd love to be part of the senior squad for China 2007 and the 2008 Olympics in Beijing. It would be amazing to be at a World Cup Finals. It's definitely something I would quite like to go through and experience, having been to Tonga with the Under-19s in 2002, when we got whacked by Australia in the Oceania final. I was just fifteen then".
Four years on, and this pizza-loving Hugh Grant fan isn't quite certain what she plans to do with her future. "I have a couple of years left here at Fullerton, but I'm definitely coming back home to play.
"During June and July this year, I was playing for Marist in Wellington, which greatly revitalised me. I played six games for them - there are some good players in that team, and we ended the season as champions. That was another great experience - it was a pretty big win for us, as it was Marist's first-ever title triumph in women's soccer".
As well as that success, the Samuel Marsden Collegiate School graduate has also benefited greatly from the lessons handed down by a couple of her coaches over the years.
"Wendi Henderson is the best coach I've ever had, and I will never forget the speech she made when I was heading overseas in 2003 - that meant an awful lot to me.
"My coach at Fullerton, Ali Khosroshahin, is also very good - he's the assistant coach of the Mexican national team which played the USA in late October. He guided us to the Big West championship last season, only the second time the Titans have won the league".
Emma's contribution to that success was limited to six starts, and sixteen appearances overall. This season, the going has been tougher still for the former Petone player, with just one start in a total of six displays for the back-to-back title-chasers as at Labour Weekend.
Nonetheless, `Giggles' is taking her chances when they come along, as she hopes to when the chance to don the silver fern avails itself once more. "I am eligible for the Under-20 Women's World Cup Finals in Russia next year", says Emma, struggling to suppress another snigger. "Hopefully I can make that squad. It should be very good indeed".