You would tend to think that having one of New Zealand's finest referees of the last couple of decades for a father would result in his football-playing offspring being one of the better-disciplined players
around.
"Ha ha! Not so!" laughs Wellington women's soccer star Bria Sargent. "I've been booked quite a few times, to be honest, mainly for dissent. Dad wasn't impressed!! But he's very supportive of me playing, and pretends not to notice on those occasions when I overstep the mark".
And while Steve Sargent has been encouraging his daughter to follow in his refereeing footsteps, the twenty-nine-year-old Bank of New Zealand employee
is keen to remain involved in a team environment in the far-distant future when her playing days are over.
Being in such an environment has certainly served Bria well in her career to date, one which has not been short of highlights to savour. "Scoring on my debut for the New Zealand Under-20s is one memory I really treasure. I even remember the goal - I don't score that many, but this time round I latched onto a clearance and let fly from twenty-five yards!"
The Australian Secondary Schoolgirls were the unwilling victims of Bria's bullet, way back on December 10, 1995, the opening day of an international Youth Challenge Tournament which also featured South Korea and two Australian representative sides, one of whom downed the Kiwis 2-0 in the final.
"Winning the last National Tournament in 2001 was another memorable occasion, while being captain of the squad which won last year's National Women's League Grand Final was huge.
"It was just awesome to win the final, especially after Auckland had walloped us 4-0 a fortnight previously, which meant we were well and truly the underdogs. Indeed, we thought we were out of the running altogether a couple of weeks prior, after finishing fourth.
"But winning the appeal over Mainland Soccer gave us fresh impetus, and after squeaking past Central on penalties in the play-off, we had plenty of self-belief going into the final. We were also fairly nervous, though, so to come through and win it was just amazing!"
Asked to compare the old format with the new, Bria sees merits in both competitions. "The week-long National Tournament was a lot more demanding on the body, but at the same time, being together for a week, more often than not in another part of the country, gave the opportunity for a team to get a lot closer as a unit, and develop a real understanding.
"But the National Women's League is an outstanding opportunity for all women to play, in much the same manner the men have been doing for a long time, i.e. top-level football on a weekly basis.
"It's a good experience for young players to get a taste of football at that level. They quickly discover that it's not a laugh and a kick-about round the park - it's no-nonsense stuff, and you have to really prepare for it".
Bria recently left that 'no-nonsense stuff' behind her, opting instead for an even more challenging option through which to further her footballing prowess. By accepting an invitation from New Zealand Soccer to be part of their Senior Women's Elite International Development Group, she will no longer be able to be involved in any development or competitive activities
at either club, school or federation level.
"I'm left with a mixture of emotions", admits the David Beckham fan. "Not having the chance to repeat last year's National Women's League win, or add to my four league titles and three Kelly Cup wins with Petone, is disappointing, because they've been some of the highlights of my career.
"But the chance to represent New Zealand is an even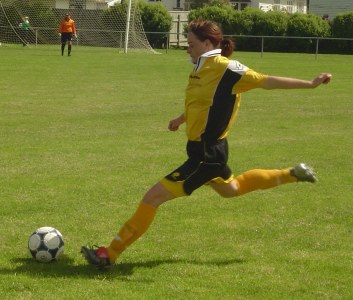 greater honour than those rewards", the defensive stalwart acknowledges. "It's an interesting concept which NZS has put in place, that's for sure, and an awesome opportunity for everyone involved".
The former Wellington and Central Region age-grade rep is relishing her new challenge. "It's a lot harder than club or rep training, or any training I've ever done, come to think of it.
"But having everyone playing and training together as a collective group over a lengthy period of time, rather than coming together from around and about days beforehand, will make a big difference, both in terms of our rankings and our results and performances over time".
The prospect of being part of such an innovative initiative was far from the thoughts of Bria Sargent nearly a quarter-of-a-century ago. In fact, she was quite upset by the fact her brother, Kyle, had started playing, as he wasn't the only one in the family who wanted to kick a ball around on Saturday mornings!
"Eventually, Dad took me down to sign up for Karori Swifts. From there I went to Raumati Hearts - now Kapiti Coast United - before joining Petone in 1993, where I've been ever since.
"Former NZ coach Nora Watkins was my first coach there, and remains one of the biggest influences on my career. I started off as a striker at Petone, but Nora realised my full potential and moved me to centre-back. We used to joke that there was only one position further back she could have moved me, and given that I can't dive or catch properly, I don't think goalkeeper
would have been my forte!
"Wendi Henderson, Maureen Jacobson - New Zealand's most capped women's international - and Rebecca Van der Vegt are others, along with my ever-supportive parents".
There is someone else, too, whom Bria would prefer remained anonymous. "When I first started playing at Raumati Hearts, I was only twelve, and there was a player who took me under her wing. She later fell ill, and had to give up playing as a result, but before doing so, she handed on her number seven shirt to me.
"I've worn that number in just about every game I've played since, except during my early days in the Wellington squad - seven was Maureen's number, after all!", says the lady nicknamed `Spud'.
"I don't know where that one came from - I just got stuck with it! I've got numerous other nicknames, several of which aren't printable!" giggles Sargent, whose favourite food is chicken and cranberry pizza. "But they usually call me `Grandma', `cause I was a little bit older than most of the others in the team".
That's no longer the case, now she's committed herself to NZ Soccer's initiative for the women's game. Gone, too, are the days of being booked for dissent. Instead, being part of the New Zealand squad which qualifies for the 2007 Women's World Cup Finals and the 2008 Olympics is uppermost in Bria Sargent's thoughts nowadays.
Dad will definitely be impressed by that!