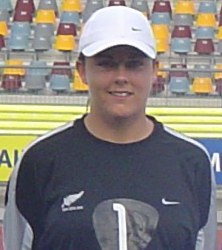 New Zealand womenís goalkeeper Rachel Howard has scored herself a dream 27th birthday present, but sheís had to make a few personal sacrifices to realise it.
However, when global sports giant adidas come calling, you tend not to say ĎNein, danke schon!!í
"Iím basically putting my life into a forty-foot container over the course of the next eight weeks!!", quips the five-foot-nine shot-stopper. "This, plus training my replacement, meant my having to withdraw from the New Zealand squad to take on the USA, and from playing in the National Womenís League for United.
"While itís disappointing for me in that respect, at the same time it gives an opportunity for others. Weíre a bit thin on the ground for goalkeepers at present, what with me heading abroad in mid-November and Jenny Bindon being pregnant. So if any outfielder wants to don the gloves, you can pretty much guarantee an international trip at the moment!!"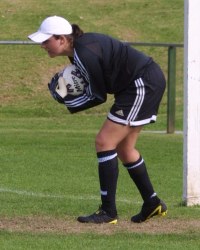 The Wellington nativeís wicked sense of humour contrasts sharply with her ferocious determination to produce her best every time sheís between the sticks, and to her role in the adidas family, one which will see Rachel taking on a custom-made role for her as the global product manager for (whisper it!) rugby!
"After completing my studies - a Bachelor of Business degree majoring in marketing and accounting (Hons), I started work with adidas in July 2001, initially as part of their internship programme.
"I was employed as a Marketing Assistant, and graduated to my current role as Associate Brand Manager, looking after everything to do with rugby - I actually played Lion Foundation Cup rugby for the North Harbour womenís team last season, as fullback!"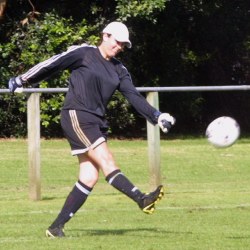 Earlier this year, Howard made some enquiries about possible job opportunities overseas, and her persistence paid off in August, when, after a telephone interview, she was on a plane to the adidas head office in
Herzogenaurach three weeks later.
"My contact was another New Zealander, Paul Scorringe, who is the Category Manager for football at adidas. Heíll be my boss, and Iíll be taking over the rugby side of things in what is a newly created position - itís certainly a good career move for me".
Itís also one which allows her to learn new things, live in a different environment, "and gives me a great chance to learn about European football, which will hopefully be beneficial to me and to New Zealand.
"Iíve made contact with NZ womenís captain Rebecca Smith, who is playing for FFC Frankfurt in the Womenís Bundesliga. Iíll be living in Nuremburg, and will be looking to play for one of the nearby teams in the same competition. Iíll definitely continue playing, however - thatís a must!"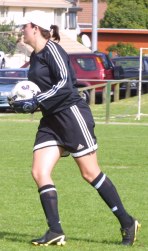 As it has been since Rachel was a four-year-old, when her father introduced her to the game. Seven years later, she moved to the Hawkes Bay region upon her step-father securing a job transfer, before heading to "the big smoke" prior to the 1997 season.
"Iíve always played in goal, it seems, although Iíve had a few run-outs upfield, and scored a few goals as well!! But when I was sixteen, I was reserve goalkeeper behind Rebecca Rolls in Hawkes Bay, and upon succeeding her, have worn the number one jersey ever since.
"Apart from my first couple of seasons in Auckland with Three Kings United, Iíve always tended to play for teams that have needed a goalkeeper. Iíve been at Takapuna for a few years now, and itís been very much a breath of fresh air playing with those girls - theyíre so full of enthusiasm!! Thatís something Iíll miss".
Along with family and friends, the English language, and surfing!! "I wonít get the chance to do much of that in Germany!", giggles Rachel, whose greatest domestic success was winning the 1997 SWANZ Cup Final with Three Kings. "The 7-5 win over Petone - it was certainly an interesting game!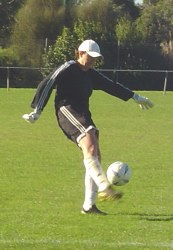 "Internationally, making my debut against the USA in Washington was huge, especially with the game being shown here on ESPN. I received the MVP award in that game - another career highlight, while another which was special to me was taking the field in the second half of the Australia Cup game against the host nation in Brisbane earlier this year, ending a lengthy absence from the international scene".
Itís a lengthy absence from her native land which is now in store for a goalkeeper who has thrived under the watchful eye of various goalkeeping coaches over the years. Germany is calling now, but when the call comes to play for New Zealand in 2005 and beyond, you can count on Rachel Howard being as keen as ever to don the number one jersey of her country once again.