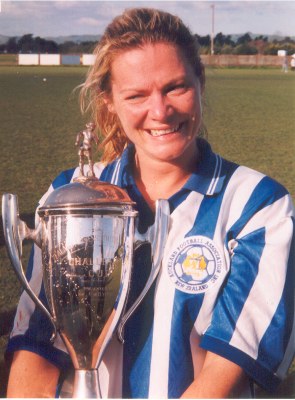 Living in the shadows of two of New Zealand women's soccer's best-ever players has not made life easy for Tara Cox, the soccer player. But as a means of building up the character and resolve of Tara Cox the person ... ideal!
Consequently, "TC" has developed a bit of a reputation as someone not to mess around with, as she'll give you short shrift if you do. Rest assured, however, while she doesn't suffer fools gladly, she's not as unforgiving as her aforementioned reputation makes her out to be.
Tara is one of those players who tends to go in where angels fear to tread. I can think of few players in women's soccer who are as tenacious and indomitable in pursuit of victory. She's the sort of person you'd prefer to have alongside you in a battle, rather than facing you.
Every team needs its grafters as well as its skilled technicians - "TC" is a shoe-in in the former category. What she may lack in technical proficiency, Tara more than makes up for with her whole-hearted approach to the game, an attitude which she has every right to expect, rather than demand, of others in her team.
So if, as a player, you've been on the receiving end of a blast from the ever-forthright Miss Cox, and thought her to be an arrogant little _____ (fill in the gap with your own adjective!) as a consequence, now you know why!
I don't mind admitting that I was delighted for Tara upon hearing she'd made Auckland's "A Team" in 1994. To crown her season, she was named Eden's Player of the Year, thus continuing the family tradition of winning the award, while at the same time proving that she has at last emerged as a player in her own right, rather than as "Michele's sister" or "Barbara and Roy's younger daughter". You don't need much imagination to realise how proud she is of that fact.
Of course, Tara has become even more of a force to be reckoned with since that initial breakthrough at senior representative level, to the point where she is now, like her mother and sister, a SWANZ international, and one not afraid to make her mark on the opposition either.
At the Pacific Cup tournament in June, 2000, the Matildas had scored three goals in a ten-minute spell half-way through the first half to set up a half-time 4-0 lead against their trans-tasman counterparts, at which point then SWANZ coach Doug Moore let Tara loose in midfield.
A handful of tackles soon after, and it's fair to say the Australians didn't greatly appreciate coming across someone who wasn't afraid to treat them with the same degree of contempt which they reserve for their trans-tasman counterparts! Tara's example was followed by a few of her team-mates, and there was no change to the half-time score.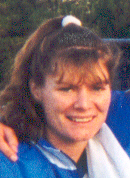 As well as her four appearances for her country, Tara has been an "A Team" regular since her 1994 debut, and there is no doubting the highlight of her thirty-six game career in blue-and-white - captaining what was effectively an Auckland "B" squad to victory in the 1998 National Women's Soccer Tournament, and scoring the winning goal in the final of same ... with her beak!
Typical lawyer - always sticking their noses in places where they're not wanted!! That's probably what the vanquished Wellingtonians thought, anyway, but certainly not the Auckland contingent, who were cheered on by their numerous colleagues who had represented the SWANZ at the tournament, which they were using as part of their Women's World Cup qualifying series preparations.
There was a sense of deja vu about this goal, too. Tara's feat in scoring the winner in the final emulated that of her mother, Barbara, fourteen years previously, also in a National Tournament final against Wellington. Scary, huh?
It must be said, goals by Tara are something of an event! When she does find the target, she tends to do so from within an area defined by the shadows of the crossbar - hence the nickname "One Yard"!!
However, opposing goalkeepers beware - she has been known to let fly from twenty-five yards with telling effect!!
Tarah has been a part of the Auckland women's inter-club scene since 1985, when she first appeared for Mt. Wellington. The team's en masse transfer to Eden in 1987 was the beginning of a lengthy link with the club for "TC", broken only by a brief stint with Lynndale in 1988, when Eden didn't have a team in the Premier Division.
In her midfield anchor role, Tara has scored twenty-four goals in the colours of Eden and Three Kings United since 1987, while she's certainly piled on the honours over the years, and not just in terms of winners' medals - the former NZ Universities skipper was named Auckland Sportswoman of the Year in 1999, fitting recognition for her on-field performances, and, as importantly, for her leadership skills.
I've got a lot of time for Tara, who is now happily married to prospective New Zealand international cricketer, Craig Pryor. Life, soccer-wise, hasn't been as easy for her as for others, for reasons already mentioned. But she has quietly gone about overcoming the hurdles with which she has been faced, and these have helped "TC" become the player and person she is today.
That's someone who is reliability personified, who, in true leadership fashion, is not afraid to roll her sleeves up and get stuck in when the need arises - as on the day when she showed the Matildas due contempt! - and who, in my eyes, epitomises all the characteristics one associates with life's true winners.