It's a long way from Manchester to Christchurch, but Emma Harrison has a fair few more travel plans up her sleeve over the course of the next twelve months, and all are to do with furthering her footballing ambitions.
The New Zealand Under-20 squad contender is moving to Auckland in the new year, and is hoping to add Australian, Samoan, Russian and American stamps to her passport before the end of September 2006.
It's certainly something which this Robbie Williams fan hadn't anticipated when she started playing when aged six. "My interest in football kicked off in a huge way in 1993, when I began training in the Manchester United soccer scheme. I was part of that at my favourite club for three years".
Early in 1997, the Harrison clan upped sticks and moved to the other side of the world for employment purposes. It's a move Emma doesn't regret. "I love it here! The lifestyle is better, and so are the opportunities - there's no way I could go back to England to live after being here!"
That's good news as far as we colonials are concerned! But Emma will be on manoeuvres again very shortly. "My parents, Paul and Marilyn, are moving to Australia early next year, while I'll be moving to Auckland to further my football.
"Even though I like Christchurch, I'm looking forward to moving to Auckland, but I won't be there for too long. I'm looking to go to the USA later next year. I'm working on securing a scholarship at present, studying sports science, and majoring in Physical Education - I want to be a PE teacher".
Before realising that ambition, however, the Burnside High School student has other travel plans on her agenda, starting in late January. "I've been selected for the NZ Secondary Schoolgirls squad to go to Sydney for a week-long trip at the conclusion of the NZ U-20s training camp. We'll be playing a number of New South Wales state and academy youth teams.
"Then in April, I'm hoping to be selected for the Under-20s as we contest our Oceania Women's World Cup qualifying series in Samoa. After that … Russia, I hope! That is huge - it's the biggest thing for me at present, and I'm endeavouring to make every day count towards it".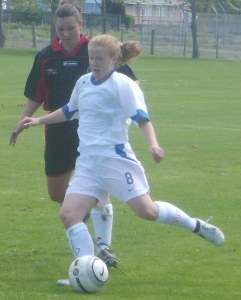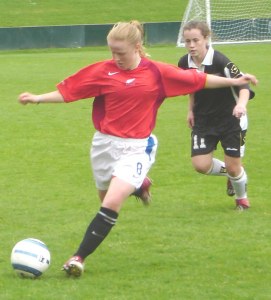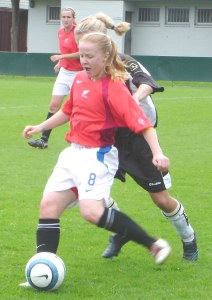 Emma, who definitely has her sights set on playing for the senior national team during her career, as well as playing for as long as she can, has already represented New Zealand at Secondary Schoolgirls and Under-16 levels, and labels these moments as highlights of her career to date, as well as being part of the current Under-20 squad.
She has also enjoyed some individual recognition, although it took a bit of prompting to reveal exactly what. "I was Mainland Soccer's Under-19 Player of the Year in 2004", says Ryan Giggs' biggest fan, "but I'm not one to boast about what I've achieved - it's a team game, after all".
Talking of teams, during her time in the Garden City, Emma has largely stuck with one club. "My dad and I have been with Nomads United since we moved here eight years ago. Dad still plays for them, while I've come up through the grades with Nomads until this season, when the senior women's team transferred en masse to Christchurch United.
"I've been fortunate enough to make all the Mainland Soccer representative sides, and owe a great deal to dad, who has pushed me on throughout my career to date. A handful of coaches have also been big influences on me, including John Herdman, Ali Grant, and Rowena and Mike Fulham".
The fan of `Bend It Like Beckham' star Keira Knightley has played in central midfield for most of her career, but has moved out to the right wing in recent months. Her versatility has also extended to playing at both right back and left wing for the NZ Secondary Schoolgirls team in their home series against Australia in 2004.
And fuelling Emma's quest for success? Her email address is a dead giveaway! "I love baked beans!!" chuckles the eighteen-year-old, just like a true Mancunian. "As long as I'm on the field playing, I'm happy!"
While her roots are twelve thousand miles away, Emma Harrison is every inch the rising Kiwi soccer star nowadays, one with plenty to look forward to in the coming months, especially in the way of travel, frequent flyer points and football. And, of course, baked beans!!