The New Zealand Universities women's soccer squad is competing in the World University Games this month, taking on Ireland, Taiwan and host nation
Turkey in group play before, hopefully, progressing to the play-off stages for the first time ever.
One of the stars of the squad is Tess Murphy, an uncompromising, no-nonsense central defender on the park, but off it, one of the most personable people you're ever likely to meet.
The Auckland-born student is preparing to make her final appearances for the Universities squad, as she is set to graduate from Otago University later this year armed with a Bachelor of Physical Education degree and a Diploma of Teaching.
"It's been full-on for four years", says the vivacious soon-to-be twenty-two-year-old, "and I'm kind of looking forward to the end of it, but at the same time, I will miss this place - it's been fun!"
As have been Tess' sojourns abroad thus far, all of which have been for footballing purposes. Trips to Australia on NZ Secondary Schoolgirls duty, Tonga with the NZ Under-19s in 2002, and to Korea have been made, the last location being the host nation for the 2003 World University Games.
"We had some great experiences at that tournament. The opening and closing ceremonies, the Olympics-like experience of living in a village with all kinds of athletes, playing against such incredibly talented players, and the final between North Korea and Japan - it was amazing to see how strong the game is.
"Then there were the spectators - they loved watching you. It was kind of scary in a way, but there was nothing sinister about it or anything like that - they were just there supporting us".
And now Turkey. To prepare for the tournament, the squad set up camp for a week in Auckland in mid-July, playing matches against Lynn-Avon United (won 4-0), Eastern Suburbs (lost 4-3) and two against the NZ Elite Squad (drew 1-1 and lost 3-1).
The weather couldn't have been more unlike Izmir (NZU's destination), but that didn't put off Tess and company - anything but! "Of all my soccer trips, this is one I'm looking forward to most of all, because we've got such a great team - everyone clicked right from day one!
"There are no cliques, but personalities aplenty. Everyone's relaxed and gets on well with each other, and with the management team too. We've a really good manager in Trudi Squire, and all in all, everything's been pretty organised, with preparations for this trip funds-wise starting late last year. August 3 can't come soon enough!"
The Games village in Izmir will make life interesting, to put it mildly, given the hosts have seen fit to build apartments which accommodate eleven people … "That will be testing, especially for the athletes", muses Murphy, whose own journey to the city by the waters of the Aegean Sea began just over a decade ago.
"My intermediate teacher at Pasadena was a good family friend as well, and he was well into soccer - he's David White, formerly Central United's goalkeeper, who instigated my passion for soccer.
My older sister, Dara, played for Western Springs College at the time, and Mum was the manager, so I ended up filling in as a striker for them, even though I was still at intermediate. I was quite quick in those days!!" laughs a young lady who's into hip-hop music.
"From there I went to Epsom Girls Grammar School, where I came across a coach who really believed in me in Simon Henson. I trialled for them in third form, and got in the first eleven at the first time of asking - that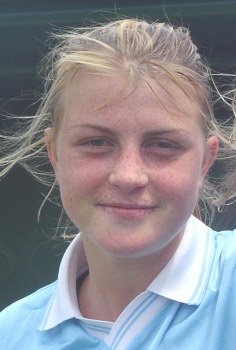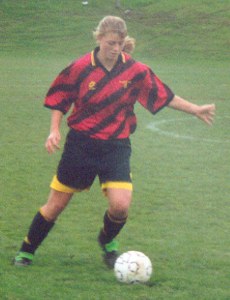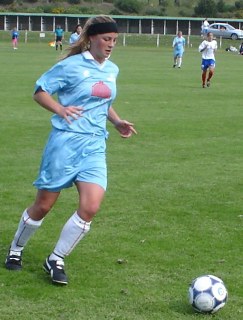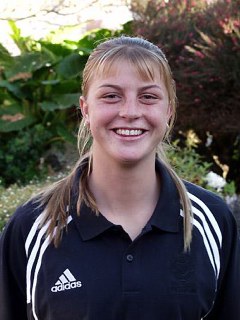 was a huge buzz.
"For the next two years, EGGS played in the Auckland Regional Divisions - the next tier up was the Premier Women's League, a competition in which I
made my debut in 1999 as a fifth former for Ellerslie. Simon took over as coach there, and brought a group of us along with him".
Tess was there for three seasons until the time came to head south to Otago. But she bowed out on a winning note in 2001, appearing as a late substitute in Ellerslie's finest hour to date, their Uncle Toby's Women's Knockout Cup triumph that year.
On the representative front, Auckland Under-17 honours were accorded Tess in both 1999 and 2000, years which saw her teaming up with the likes of Anna Barlow, Rachel Doody, Priscilla Duncan, Amber Hearn, Hayley Moorwood, Melissa Ray and Hannah Rishworth, all of whom are current members of NZ
Soccer's Senior Women's Elite International Development Squad.
"I hope NZ Soccer does move forward and realise its twin goals of China `07 and `08 for the women's game. There are some really wicked players in that
team. And it goes without saying that I'd love to get into the Elite Squad, as I know I'd relish the challenge of playing at that level".
In this writer's long-held view, Tess' defensive prowess is such that she is well capable of rising to the very top of the women's game in this country, should the opportunities come her way.
And they may yet do so. One of the coaches who is regularly involved in coaching the Elite Squad players is former Soccersouth Director of Coaching, John Herdman, who knows Tess' potential from his time there.
"He was another big influence on me", says our subject, who has enjoyed Soccersouth Premier Women's League championship success with Northern this season, after three seasons of savouring it with the Otago University club.
"And Macky Singh, the NZU coach, has given me a lot of confidence as well, on and off the field. Being named vice-captain of the 2005 Universities squad is a huge boost for me from a coach to whom you feel comfortable talking about anything - he knows when to put the pressure on, and when to ease off.
"Of course, my parents, Trish and Chris, have been massively influential - I owe them so much. They have financed all my trips away, including this one. Each member of the squad paid off their $5500 travel fund via instalments, and now we're off to represent New Zealand in Turkey - wish us luck!"
Upon her return, Tess will be scanning the job columns for teaching positions. "With teaching, we don't apply for jobs until October - they don't start to become available till around that time. So you go for what you can, and wherever they happen to be!
"Hopefully I'll be based in Auckland or Wellington, teaching Phys. Ed., and playing for a club side. Long-term, it's my goal to strive to be a well-rounded teacher, and do lots of travelling. It's to my advantage that I can teach and travel with it, so the sooner the better!"
Meantime, Turkey beckons, with friendlies against South Africa and Canada scheduled prior to the Games themselves, which take place between August
11-21, NZ time. On the evidence of their Auckland showings, this NZ Universities squad has the potential to make a significant impression in Izmir.
You can expect Tess Murphy, as she makes her final appearances for NZU, to be keener than most to ensure that's the case.