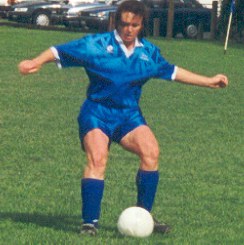 Born November 6, 1971

Individual Achievements
5 SWANZ appearances, 1 goal
SWANZ debut v. China, November 21, 1997
Canterbury rep. 1991-94
Auckland rep. 1995-2006 - 37 appearances, 3 goals

Club Record
Halswell United, - 1994
Te Atatu, 1995-97
Lynn-Avon United, 1998-

Club Honours
Northern Premier Women's League champions
2000, 2001, 2002, 2003, 2004, 2005
Auckland Premier Women's Knockout Shield winners
1999
WSANZ Knockout Cup winners
2000, 2002, 2003, 2004, 2005, 2006
WSANZ Knockout Cup runners-up
2001

Representative Honours
National Women's Soccer Tournament champions
1995, 1997, 1999, 2000
National Women's League champions
2006

She's one of women's soccer's quiet achievers, an unsung heroine who gets on with the job with the minimum of fuss, to such an extent that it's only when she's absent from the starting line-up that you tend to notice just how effective a player she is.
But there's more to the game of the down-to-earth Canterbury native than her uncompromising tackling and no-nonsense defensive strategy. Jenny Carlisle's also a winner, someone whose attributes have been readily recognised down the years by a number of coaches and selectors who appreciate the value a player with these characteristics can bring to the squad they're building.
Among these knowledgeable souls are Maurice Tillotson, Keith Garland, Roy Cox, Sandy Davie and the late Terry Conley, while the latest addition to this contingent is newly appointed New Zealand women's coach Allan Jones, who has called Carlisle into the national squad's training programme.
"Being back in New Zealand contention is a heck of a bonus at my age", says a lady who'll be thirty-five in November. "The training sessions Allan and his assistant, Craig Alexander, put on are really intense and enjoyable, and I have learnt a lot in the short time I have been part of the training squad.
"It's one of the highlights of my career, to be honest, coming as it does some eight years after the last of my five caps for New Zealand, a Women's World Cup qualifier against Papua New Guinea in which I scored my only goal for my country in a full international.
"That came after one of the greatest experiences of my career, the 1998 Champions Tour, when we played in Holland - one of my favourite countries, Germany and the USA. Playing in front of over 46,000 fans in Washington was a very special memory, as was my debut as a substitute against China, in November 1997".
Jenny last donned the silver fern as a member of the NZ Regional Selection at the tail-end of the 2001 season, since when she has taken on a new challenge in her life, one she thoroughly enjoys.
"I was an upholsterer, a job in which you can't really go far, which is something I wanted to do. So I opted for a change of career, and joined the police force in April 2002 - another highlight for me.
"Nowadays, I'm a constable based at the Avondale station, in the Burglary Investigation Unit, and while I enjoy it, I wouldn't mind getting into the Search & Rescue or Photography Units at some stage in my police career".
It's her football career which is uppermost in Jenny's objectives at present, however, as she prepares to maintain her record of having played in every SWANZ Knockout Cup Final this century. For someone who didn't win a thing in club football until 1999, she's certainly making amends these days!
"I was a late-comer to soccer, and only started playing when aged twelve, through lunch-time kickabouts!! I joined Halswell United, and spent one year playing with the boys before it was `girls only' football. I stayed at Halswell for ten years until moving to Auckland at the end of the 1994 season.
"I'd been selected for Canterbury since 1991, and immediately earned selection in the Auckland squad upon my arrival up here, making the last of my thirty-two appearances for them in 2000 - my fourth National Tournament win.
"My first club in Auckland was Te Atatu - I joined them because former Halswell goalkeeper Michelle Townsley was there. In 1998 I switched to Lynn-Avon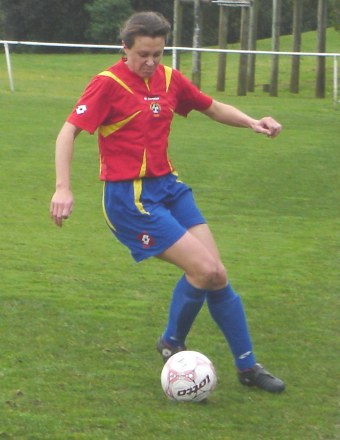 Ten Favourite Things Of
Jenny Carlisle
Players

Zinedine Zidane,

David Beckham

Teams

Liverpool, Manchester United

Music

Robbie Williams,

easy listening

Actors

Johnny Depp,

Denzel Washington

Movie

Pirates of the Caribbean

TV Shows

Documentaries, Friends

Other sports

Horse-riding, Gym classes, Swimming

Other sports stars

Sarah Ulmer, Hamish Carter

School subject

PE

Ways to Relax

Horse-riding - I have my own horse, a thoroughbred Clydesdale cross;

Watching TV when I can

United, and a year later, won my first winner's medal with them, in the AWFA Knockout Shield".
It was the catalyst for a fair few more, because Lynn-Avon - "an excellent club to play for" - have dominated both the Northern Premier Women's League and SWANZ Cup so far this decade, and Carlisle is "fairly confident" that she'll be collecting a sixth winner's medal in the latter competition in September's final.
"On paper we're favourites, and we've certainly got the team that can win it. We'll have the Under-20s back from Russia for the final, so we'll be a good, strong side on the day.
"It seems a bit strange, really, not having the two best teams in the league facing each other in the showpiece fixture, because our quarter-final clash with Three Kings United was definitely deserving of the final - it was a really intense, hard-fought game".
Citing the support of parents Denise and Neville, sister Viv, a host of coaches including Jill and Dene Gilmore, the inspiration of playing alongside Terry McCahill, and close friends Kimbal McHugo and Steve MacKenzie as the biggest influences on her career, Jenny has no intention of hanging up her boots any time soon.
"I'm still enjoying it - that's the key. Age isn't an issue in that regard, nor should it be, to anyone. As long as I keep fit, and continue to enjoy it, I'll keep playing soccer".